Research Article Cites HemoVoid™ in Biomarker Study for Parkinson's Disease
MONMOUTH JUNCTION, NJ, December 4, 2019 -- Biotech Support Group reports on a recent research article describing the simplicity and efficiency of their hemoglobin depletion technology for enriching the red cell proteome, to observe and report sub-forms of α-Synuclein in Parkinson's Disease.
The citation is:
Elhadi, Suaad Abd, et al. "α‐Synuclein in blood cells differentiates Parkinson's disease from healthy controls." Annals of Clinical and Translational Neurology.
The goal of this study was to determine whether blood cells expressing α-Synuclein can differentiate Parkinson's disease (PD) from healthy controls. The pathological hallmark of PD is the occurrence of Lewy pathology; α-Synuclein (α-Syn) being a major constituent. Growing evidence now suggests that PD is a systemic disease and that α-Syn can be detected in blood erythrocytes. As the extremely high abundance of hemoglobin from erythrocytes can often interfere with protein analysis, the article states PSer129 α -Syn & Oxidized α -Syn detection: "followed from hemoglobin clearance with HemoVoid kit (Biotech Support Group LLC,NJ, US)". The authors demonstrate the potential usefulness of blood cell α-Syn as a biomarker for PD.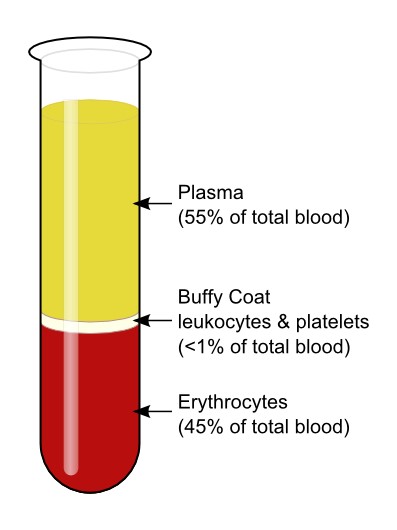 Whole Blood Compartments
"We have focused our development efforts around proteomic profiling of the various blood compartments. I am very pleased to see that this article illustrates the ability to enrich for the underlying sub-proteome from the cytosolic fraction of red cells as a unique feature of HemoVoid™. That two sub-forms of α -Syn were measurable by immunoassay demonstrates its flexibility for a wide variety of applications", states Swapan Roy, Ph.D., President and Founder of Biotech Support Group.
For more information on HemoVoid™, visit:
http://www.biotechsupportgroup.com/HemoVoid-Hemoglobin-Depletion-From-Erythrocytes-p/hvk.htm
For more information of all of our Hemoglobin removal products, visit:
https://www.biotechsupportgroup.com/Articles.asp?ID=452
About Biotech Support Group LLC
Converging with cultural and technological disruptions forthcoming in healthcare, Biotech Support Group develops methods for cost effective and efficient sample prep essential for these expanding markets. Following a tiered business strategy, the company continues its growth in the consumable research products area supporting the rapidly expanding installation of LC-MS instrument and computational infrastructure. For this market, key products include: AlbuVoid™ and AlbuSorb™ for albumin depletion, Cleanascite™ for lipid adsorption, HemogloBind™ and HemoVoid™ for hemoglobin removal, and NuGel™ for functional proteomics. From these innovations, the company has acquired knowledgebase and biomarker intellectual property assets that support discoveries of protein markers from blood, with special emphasis on early detection and personalized medical decisions for cancer patients. For more information, go to http://www.biotechsupportgroup.com

Contact:
Matthew Kuruc
732-274-2866
mkuruc@biotechsupportgroup.com


Editor Details
Company:

Biotech Support Group LLC

Name:

Biotech Support Group LLC
Last Updated: 16-Dec-2019