US Animal Drug Compounding Market to Record Robust CAGR 8% During 2019 to 2029
Persistence Market Research published a report on the animal drug compounding market, which considers the U.S. industry analysis 2014 – 2018 and opportunity assessment 2019 – 2029, and projects that the animal drug compounding market is expected to reach ~ US$ 1 Bn by the end of 2019 in terms of value, and is forecasted to reach ~ US$ 2 Bn by the end of 2029.
Availability of Alternative Dosage Forms Boosting the Demand for Animal Drug Compounding
Commercially available veterinary drugs often come in a single dosage or strength. Animal drug compounding is able to produce desired drugs with alternate dosage and varied dosage forms, which is not possible during the production of branded drugs. Such types of animal drug compounding involve concentrating the drug in the flavoured gel that is generally applied to the paw or fur of the animal, and is administered by licking.
Report Highlights:
Shifting Industry dynamics
In-depth market segmentation
Historical, current and projected industry size Recent industry trends
Key Competition landscape
Strategies of key players and product offerings
Potential and niche segments/regions exhibiting promising growth
A neutral perspective towards market performance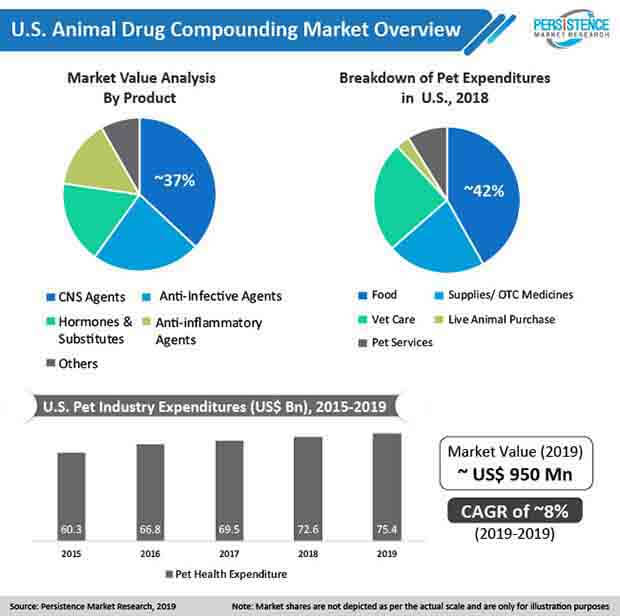 Get Sample Copy of Report @ https://www.persistencemarketresearch.com/samples/30058
Company Profiles:
Hoye's Pharmacy
Vertisis Custom Pharmacy
Smith Caldwell Drug Store
Sixth Avenue Medical Pharmacy
Dougherty's Pharmacy
Triangle Compounding Pharmacy Inc.
Medisca Inc.
Wedgewood Pharmacy
Millers Pharmacy
Also, dosage forms such as transdermal drug delivery in animals, are widely accepted in diverse range of animal drug compounding. To cite an example, anti-parasitic drugs for cattle and anti-flea drugs for dogs and cats are most successful transdermal drug delivery transdermal compounded drug products.
Lower Availability of Generic Substitutes for Veterinary Drugs
Availability of generic substitutes is much lower for veterinary drugs. Most drugs available for animals for critical diseases are branded drugs. Additionally, currently there is no reimbursement available for veterinary drugs, which indicates that most of the drug expense goes out of the pockets of animal owners.
In such circumstances, most pet owners prefer resorting to animal drug compounding that are easily available, cheaper than branded equivalents, and do not require multiple prescriptions.
Get To Know Methodology of Report @ https://www.persistencemarketresearch.com/methodology/30058
CNS Drugs to be Most Frequently Dispensed Extemporaneous Medications from Animal Drug Compounding Pharmacies
Central nervous system inflammation is the most common cause of neurological disorders in dogs and cats. Abnormal limb coordination, seizures, behavioral changes, and blindness are cited as the most common abnormalities in dogs and cats with central nervous system inflammation.
For instance, according to the International Journal of Pharmaceutical Compounding, central nervous system drugs were the most commonly dispensed medications from animal drug compounding pharmacies with approximately 39% of the total veterinary prescriptions.
Absence of Adverse Event Reporting in Animal Drug Compounding
Individual boards of animal drug compounding pharmacies of various states in the U.S. haven't reported any incidences of adverse events related to animal drug compounding. Furthermore, the U.S. FDA's adverse drug event reporting system for animals is also not aggregated or comprehensive, and is currently being revised. Since 2001, only 62 compound-related adverse events in animal drug compounding have been reported to the FDA.
No definitive trends can be derived out of them. Therefore, absence of adverse event reporting in animal drug compounding will upsurge the demand for animal drug compounding pharmacies.
Access Full Report @ https://www.persistencemarketresearch.com/checkout/30058
Unsafe Compounding Practices May Deter the Growth of Animal Drug Compounding
The primary factor restraining the usage of animal drug compounding is unsafe compounding practices, which include compounding contaminations and non-adherence to GMP regulations. This is very prominent across sterile compounding involving injectable drugs and intravenous solutions.
Contaminated sterile environments lead to spread of pathogens and fungal infections, and have resulted in various hazards and drug-related deaths, thus dampening the prospects for animal drug compounding. To avoid unsafe animal drug compounding practices, the U.S. FDA has made it mandatory for all outsourcing facilities manufacturing bulk drugs to be inspected and to secure cGMP certification.
Explore Extensive Coverage of PMR`s Life Sciences & Transformational Health Landscape
Allergic Rhinitis Market – Allergic Rhinitis Treatment Market Segmented By Immunotherapy, Sublingual Immunotherapy, Allergy Shots, Anti Histamines, Decongestants, Leukotriene Receptor Antagonists, Corticosteroids Treatment with Seasonal Allergic Rhinitis, Perennial Allergic Rhinitis, Occupational Allergic Rhinitis Disease by Oral, Nasal, Intraocular, Intravenous Route of Administration. For More Information
Nano Healthcare Technology For Medical Equipment Market – Nano Healthcare Technology for Medical Equipment Market Segmented By Biochips, Implantable Materials, Medical Textile and Wound Dressing, Active Implantable Devices Product with Therapeutic Applications, Diagnostics Applications, Research Applications. For More Information
Health Caregiving Market – Health Caregiving Market Segmented By Daily Essential Activities, Health and Safety Awareness, Care Coordination, Transition Support, Social Well-Being, Caregiver Quality of Life as Care Type. For More Information
Insulin Delivery Device Market – Insulin Delivery Device Market Segmented By Insulin Syringes, Insulin Pens, Insulin Pumps, Insulin Jet Injections Devices. For More Information
About us:
Persistence Market Research (PMR) is a third-platform research firm. Our research model is a unique collaboration of data analytics and market research methodology to help businesses achieve optimal performance.
To support companies in overcoming complex business challenges, we follow a multi-disciplinary approach. At PMR, we unite various data streams from multi-dimensional sources. By deploying real-time data collection, big data, and customer experience analytics, we deliver business intelligence for organizations of all sizes.
Our client success stories feature a range of clients from Fortune 500 companies to fast-growing startups. PMR's collaborative environment is committed to building industry-specific solutions by transforming data from multiple streams into a strategic asset.
Contact us:
305 Broadway, 7th Floor
New York City, NY 10007
United States
Ph.no. +1-646-568-7751
E-mail id- sales@persistencemarketresearch.com
Website: https://www.persistencemarketresearch.com
Source FMI