GeneTex Releases High-Affinity Recombinant Monoclonal Antibodies to Accelerate SARS-CoV-2 Research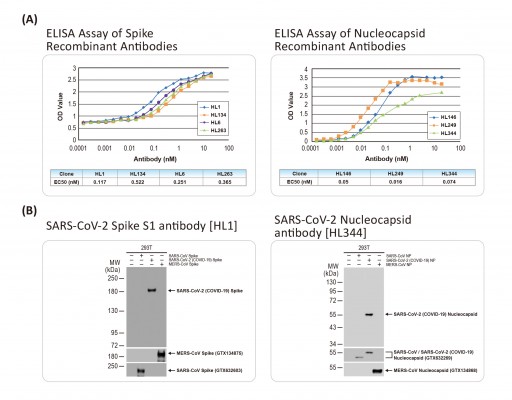 IRVINE, California - May 28, 2020 - (
Newswire.com
)
GeneTex, a research antibody manufacturer for more than two decades, has augmented its extensive catalog of SARS-CoV-2-related antibodies and reagents with the production of recombinant antibodies targeting the viral spike and nucleocapsid proteins. Generated in GeneTex's new, state-of-the-art recombinant antibody facility, all four novel recombinant rabbit monoclonal antibodies directed against the S1 region of SARS-CoV-2 spike (S) and three targeting nucleocapsid (N) exhibit high affinity and specificity. The antibodies are validated for western blot, ELISA, ICC/IF, and as antibody pairs for sandwich ELISA.
All four of GeneTex's spike S1 recombinant antibodies demonstrate specificity for SARS-CoV-2 S1 with no cross-reactivity to SARS-CoV or MERS-CoV spike proteins. Clones [HL1] and [HL6] exhibit high affinity for mammalian-expressed SARS-CoV-2 spike protein with EC50 values of 0.117 nM and 0.251 nM, respectively. Importantly, both antibodies perform exceptionally well when paired with GeneTex's mouse monoclonal SARS-CoV antibody [1A9] for sandwich ELISA assays. Sandwich ELISA data demonstrating detection of trimeric SARS-Cov-2 spike is available.
Although there is high homology among coronavirus nucleocapsid proteins, GeneTex's SARS-CoV-2 nucleocapsid antibody [HL344] is specific for SARS-CoV-2 with no cross-reactivity to MERS-CoV or SARS-CoV nucleocapsid. All three recombinant nucleocapsid clones display high affinity for mammalian-expressed full-length SARS-Cov-2 nucleocapsid protein (EC50 values ranging from 0.016-0.074 nM).
The addition of these products to the GeneTex SARS-CoV-2 catalog underscores the company's commitment to the creation of dependable tools to combat the SARS-CoV-2 (COVID-19) pandemic. Recombinant rabbit monoclonal antibodies have many well-described advantages that are consistent with the shift in the commercial antibody market toward recombinant antibody development, which include superior performance, reproducibility, production scalability, and antibody engineering flexibility. Recombinant antibody development will remain a major focus of the company.
GeneTex's coronavirus product catalog extends beyond SARS-CoV-2, as it also has many well-validated products for the study of SARS-CoV and MERS-CoV. With three lethal coronaviruses affecting the world within the last twenty years, the company's founders believe that coronavirus research will continue to be an essential and evolving field. As Alex Ball, M.D., Senior Scientist at GeneTex, commented, "Basic and clinical scientific investigation into the molecular mechanisms underlying infection, replication, and pathogenesis of coronaviruses has never been more important. This work is critical for the mitigation of future outbreaks."
GeneTex products are for research use only. Not for diagnostic or therapeutic procedures.
Media Contact:
Allen Lee
Phone: 949.533.1900
Email: allensl@genetex.com
Press Release Service by
Newswire.com
Original Source:
GeneTex Releases High-Affinity Recombinant Monoclonal Antibodies to Accelerate SARS-CoV-2 Research
Last Updated: 07-Jan-2021