AtbFinder Test System Shows Promise to Select Effective Antibiotic Regimens to Fight Deadly Lung Infections
TGV-Dx Reports Its Diagnostic Test Demonstrates Breakthrough Results, Selecting Antibiotics Effective Even Against Multidrug-Resistant Bacteria That Cause Chronic and Untreatable, by Usual Care, Infections in Patients with Cystic Fibrosis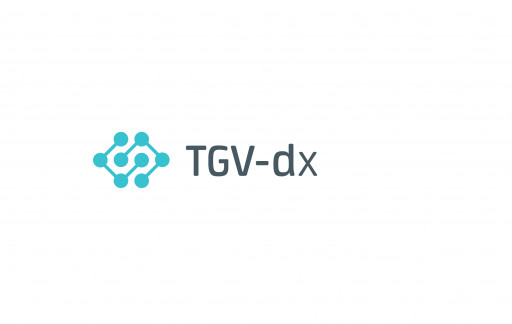 TGV-Dx, Inc. logo
Company's logo
BUFFALO, N.Y. - June 10, 2021 - (
Newswire.com
)
TGV-Dx, Inc., an emerging life sciences company, today presented ground-breaking data demonstrating that the new AtbFinder test developed by the company for the first time allows for the selection of effective and personalized antibiotic regimens, which eradicate infections caused by multidrug-resistant bacteria in patients with cystic fibrosis. These results were presented as part of a pilot clinical study in an oral session at the 44th European Cystic Fibrosis Conference, on June 10, 2021.
George Tetz, MD, Ph.D., the company's co-founder and Chief Scientific Officer, said, "The AtbFinder enables a game-changing phenotypic approach to antibiotic selection based on a novel proprietary paradigm. The AtbFinder tests over 100 different antibiotics and their combinations against each biosample and does not require the isolation of a pure culture of the lead pathogen. It facilitates the selection of the most effective antimicrobials within four hours, sample-to-result."
"Treatment with the antibiotics selected with the help of the AtbFinder for the first time eradicated chronic drug-resistant Pseudomonas aeruginosa infection in over 80% of patients with cystic fibrosis in the study," continued Dr. Tetz. "This infection, once established, is usually impossible to eradicate and is the main contributor to mortality in these patients."
During the study, TGV-Dx confirmed that antibiotics selected with the AtbFinder also improved Forced Expiratory Volume at one second, an important marker of lung function, by 28% and completely prevented acute pulmonary exacerbations. Moreover, prospective use of the AtbFinder to select antimicrobials dramatically reduced the number of systemic antibiotic courses these patients required going forward.
"While patients with cystic fibrosis are dying due to the constant decline in lung function, we were able to restore their lung function to significant degree. And that happened only due to a more precise antibiotic selection with the AtbFinder," added Dr. Tetz.
Dr. Tetz's presentation compares the outcomes of a pilot clinical study of the utility of the AtbFinder versus conventional susceptibility tests for the selection of antibiotics for respiratory exacerbations in patients with cystic fibrosis and reports that the results dramatically favor TGV-Dx's new product.
About the AtbFinder Test
The AtbFinder is a first-in-class phenotypic method for the selection of the most effective antibiotics, providing answers within four hours compared to at least 48 hours for conventional antibiotic susceptibility tests. The AtbFinder predicts antibiotic efficacy using a novel paradigm for antibiotic selection, "populational response," yielding the highest level of diagnostic specificity and sensitivity.
About TGV-Dx, Inc.
TGV-Dx, Inc. is an emerging and rapidly growing New York-based life sciences company that pioneers innovative approaches for improved antibiotic selection for patients with various hard-to-treat infections.
Contact: Dr. George Tetz; (646) 617-3088 / tets@tgvlabs.com
Related Files
TGV-Dx PR 06102021.docx
Press Release Service by
Newswire.com
Original Source:
AtbFinder Test System Shows Promise to Select Effective Antibiotic Regimens to Fight Deadly Lung Infections
Last Updated: 10-Jun-2021