ClinEdge & Skylight Health Expand Partnership
ClinEdge and Skylight Health Group expand their partnership to bring clinical trials to research sites in Colorado.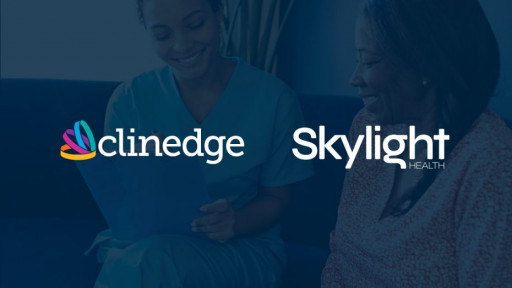 BOSTON - August 16, 2021 - (
Newswire.com
)
ClinEdge, a leader in the clinical trial industry, providing clinical trial management solutions to pharmaceutical companies, CRO's and research facilities, announced today the expansion of their partnership with multi-state primary care management group, Skylight Health Group, into the state of Colorado.
ClinEdge previously announced a partnership with Skylight Health to bring industry-sponsored clinical trials to one of their primary care clinics in Massachusetts. The success of this partnership has led to the expansion of the initial contract, and Skylight has now been awarded its first Colorado-based research project through ClinEdge.
"This momentum is exciting for the research program within Skylight and Colorado remains a key market for the Company," said Prad Sekar, CEO of Skylight Health. "As a national value-based healthcare provider, leveraging our existing infrastructure for patient-centric research projects works to further enhance the value that we are able to bring to our patients, and the US healthcare industry at-large."
ClinEdge CEO, Christian Burns adds "ClinEdge is excited to provide enhanced trial services that seamlessly integrate with Skylight's business operations, providing critical support throughout the durations of their trials."
The research project has already initiated recruitment efforts for the study and Skylight will be responsible for consenting, enrolling, and observing patients during the 4-week trial. Both Skylight Health and patients taking part in the study will be compensated. While this study is relatively short, Skylight Health will expect to have the study completed by the end of Q3 2021. Details of the trial are held in confidence to comply with study protocols and necessary regulatory requirements.
Skylight Health expects to continue to grow its research efforts into additional markets and ClinEdge has proven to be an excellent partner for this growth effort.
About ClinEdge:
ClinEdge provides a full suite of clinical business services to pharmaceutical companies, clinical research institutions, and CROs. The company includes a global network of research clinics, patient recruitment and retention, marketing and creative design engagement services, patient travel coordination, trial management, staffing, and financial service solutions. With extensive experience in medical indications representing all therapeutic areas and a specialty in rare disease engagement, the company is focused on maximizing clinical research operations, minimizing enrollment times, and improving overall business performance. www.clin-edge.com
About Skylight Health Group
Skylight Health Group is a healthcare services and technology company, working to positively impact patient health outcomes. The Company operates a US multi-state primary care health network comprised of physical practices providing a range of services from primary care, sub-specialty, allied health, and laboratory/diagnostic testing. The Company is focused on helping small and independent practices shift from a traditional fee-for-service (FFS) model to value-based care (VBC) through tools including proprietary technology, data analytics and infrastructure. VBC will ultimately lead to improved patient outcomes, reduced cost of delivery and drive stronger financial performance from existing practices. www.skylighthealthgroup.com
Press Release Service by
Newswire.com
Original Source:
ClinEdge & Skylight Health Expand Partnership
Last Updated: 16-Aug-2021