Ablation Devices Market is anticipated to witness a CAGR of 11% by end of 2029
Ablation devices are gathering momentum around the world, owing to their proven procedural efficacy, improved safety profiles, and awareness in current asymptomatic procedure-related events. Over the last decade, ablation devices have undergone significant technical improvements. These devices offer the benefits of enhanced patient quality of life, patient safety, and clinician efficiency, and are used as a frontline therapy. Decrement in long-term hospitalization and minimal invasion are critical factors that are expected to propel the growth of the ablation devices market over the coming years. Ablation devices have gained clinical significance on the basis of effective treatment across various medical applications, as well as due to shorter recovery time with affordable minimal invasive procedures. Moreover, rising prevalence of chronic diseases such as cardiovascular diseases and tumors are expected to provide impetus to market growth.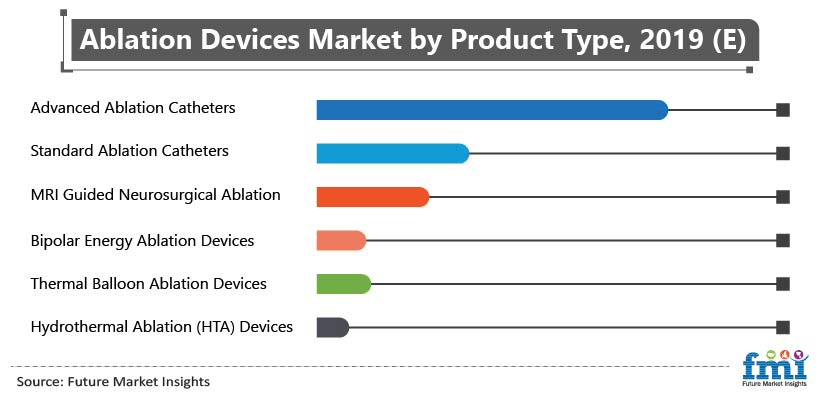 Ablation Devices Market
However, the coronavirus (COVID-19) pandemic has put forward a challenging situation for players in the ablation devices market. The pace at which the pandemic is spreading and the resultant humanitarian toll is making it difficult for market players to react accordingly. As the healthcare industry is addressing the pandemic along with patients' ever-evolving expectations, market players are devising future-ready strategies to brace themselves for the humanitarian and economic concerns ahead.
The global ablation devices market was valued at US$ 2.7 Bn in 2018, and is anticipated to witness a CAGR of 11% during the forecast period (2019–2029).
"Significant morbidity reduction, prompt hospital discharge, minimally-invasive alternatives to traditional surgical treatment, and fewer risks associated with procedures are key factors influencing healthcare service providers to shift to ablation devices".
Request For Report Sample @ https://www.futuremarketinsights.com/reports/sample/rep-gb-11254
Key Takeaways of Ablation Devices Market Study
Advanced ablation catheters has emerged as the largest segment by product type, representing 68% of overall revenue of the ablation devices market in 2018. This is attributed to being a viable alternative management strategy and their frequent use in the clinical management of paroxysmal atrial fibrillation. Further, better clinical outcomes through new ablation technologies to treat most arrhythmias and certain types of structural heart disease are responsible for their significant market share.
Hospitals accounted for a leading revenue share of 52%, owing to the availability of ablation devices and skilled personnel for better clinical management of various diseases across several medical domains.
Radiofrequency captured a major value share in the technology segment, attributable to its lesser potential risk and side effects, lesser recovery time, and its effective application on patients suffering from multiple tumors.
By functionality, automated or robotic ablation devices are expected to grow at an impressive rate; these accounted for around one-third of the global ablation devices market in 2018.
Cumulatively, North America and Europe hold a major share of the global ablation devices market, with the former holding a noteworthy share, and is expected to progress at a high CAGR during the forecast period.
Increasing prevalence of chronic diseases, high purchasing power, technology advancements, and government support for quality healthcare are contributing to the hegemony of North America in the ablation devices market, in terms of value.
Ablation Devices Manufacturers to Focus on New Product Launches
Continuous upgradation and product launches in the ablation devices market are spurring intense competition among market players. Several companies are focusing on new product approvals for ablation devices. For example, in February 2017, Hologic, Inc. launched a next-generation NovaSure ADVANCED global endometrial ablation (GEA) system in the U.S. This system has been approved by the Food and Drug Administration (FDA). Regional and local players are also implementing these differentiating strategies to sustain their competitiveness.
Want more insights?
Future Market Insights brings a comprehensive research report on forecasted revenue growth at global, regional, and country levels, and provides an analysis of the latest industry trends in each of the sub-segments from 2014 to 2029. The global ablation devices market is segmented in detail to cover every aspect of the market, and present a complete market intelligence approach to the reader. The study provide compelling insights on the ablation devices market on basis of product type (bipolar energy ablation devices, cryotherapy ablation devices, hydrothermal ablation (HTA) devices, microwave endometrial ablation devices, thermal balloon ablation devices, advanced ablation catheters, standard ablation catheters, and MRI guided neurosurgical ablation), technology (lasers, radiofrequency, microwave, and ultrasound), application (cardiovascular, cancer, urological, ophthalmic, and others), functional (automated and conventional), and end user (hospitals, ambulatory surgical centers, and clinics), across seven major regions.
Speak to Analyst, Questions Related To Report @ https://www.futuremarketinsights.com/ask-question/rep-gb-11254
Table of Content
Executive Summary
1.1. Global Market Outlook
1.2. Demand Side Trends
1.3. Supply Side Trends
1.4. Analysis and Recommendations
Market Overview
2.1. Market Coverage / Taxonomy
2.2. Market Definition / Scope / Limitations
2.3. Inclusion and Exclusions
Key Market Trends
3.1. Key Trends Impacting the Market
3.2. Product Type Innovation / Development Trends
Key Success Factors
4.1. Disease Epidemiology, By Region
4.2. Key Developments
4.3. Key Promotional Strategies, By Key Manufacturers
4.4. Key Regulations, By Region
Market Context
5.1. Key regulation
5.2. Pipeline Assessment
Market Background
6.1. Macro-Economic Factors
6.1.1. Global GDP Growth Outlook
6.1.2. Global Healthcare Industry Market Outlook
6.1.3. Global Parent Market Outlook
6.2. Forecast Factors – Relevance & Impact
6.2.1. Prevalence of Chronic and Cardiac Diseases
6.2.2. Adoption of Ablation Devices
6.2.3. Expansion by Leading Manufacturers in Emerging Geographies
6.3. Market Dynamics
6.3.1. Drivers
6.3.2. Restraints
6.3.3. Trends
6.3.4. Opportunity Analysis
Global Ablation Devices Market Value (US$ Mn) Analysis 2014-2018 and Forecast, 2019-2029
7.1. Historical Market Value (US$ Mn) Analysis, 2014-2018
7.2. Current and Future Market Value (US$ Mn) Projections, 2019-2029
7.2.1. Y-o-Y Growth Trend Analysis
7.2.2. Absolute $ Opportunity Analysis
Global Ablation Devices Market Analysis 2014-2018 and Forecast 2019-2029, by Product Type
8.1. Introduction / Key Findings
8.2. Historical Market Size (US$ Mn) and Volume (Units) By Product Type 2014-2018
8.3. Current and Future Market Size (US$ Mn) and Volume (Units) Analysis and Forecast By Product Type, 2019-2029
The post Ablation Devices Market is anticipated to witness a CAGR of 11% by end of 2029 first appeared on Market Research Blog.