Prescription Delivery Services Market Industry Growth, Business Prospects & Future Scope 2030 : FMI
Timely drug delivery is the cornerstone of an effective healthcare infrastructure. Rising prevalence of chronic and infectious ailments have accelerated production of prescription drugs, prompting vendors to develop effective distribution networks.
Advancements in consumer touch points and supply chains, including e-commerce, convenience stores and retail stores have greatly altered the prescription delivery services landscape. Advancements such as drone-based delivery and tracker based prescriptions are helping usher in smooth customer experience.
Furthermore, advanced prescription delivery systems have not only assisted in providing round-the-clock customer services but also helped manage dosage, therapy adherence and provide feedback to clinicians.
Prescription Delivery Services Market- Key Takeaways
Diabetic prescription drugs to hold major sway, poised to capture 36.7% market share by 2030
Ease of access to drugs addressing chronic conditions is slated to drive retail pharmacy growth to greater heights
North America to expand stupendously at a CAGR of 18.4% from 2020-2030, attributed to the presence of multiple convenience and pharmacy stores
Global prescription delivery services market to reach US$ 434.3 Mn by 2030-end
"Adoption of self-checkout kiosks and medicine dispensing machines shall enhance medicine purchasing experience of customers, permitting vendors to experience greater customer loyalty," concludes the FMI analyst.
Get Report Sample @ https://www.futuremarketinsights.com/reports/sample/rep-gb-12534
COVID-19 Impact Insights
The COVID-19 pandemic has generated fertile ground for the prescription delivery services market. The imposition of nationwide lockdowns to enforce social distancing have reduced footfalls across conventional pharmacies. This has compelled patients to rely on online retail platforms to avail their medicines.
Furthermore, heightened vulnerability of geriatrics suffering from co-morbidities to the coronavirus has necessitated stockpiling of essential medicines, thus keeping the need for prescription delivery services afloat throughout the pandemic's duration. This panic buying behaviour shall usher in an 80% y-o-y growth.
Growth is especially anticipated to be robust across the U.S, China and India, countries with the highest rates of infections. Collectively accounting for 40% of the global infection rate, these countries have witnessed an unprecedented increase in hoarding prescription medicines by individual households. This shall continue until the latter-half of 2021.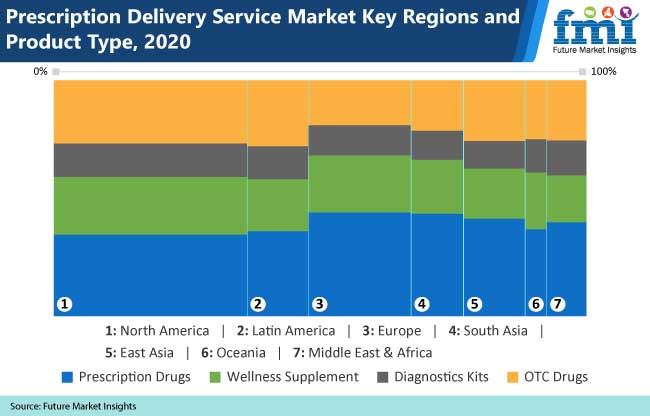 Prescription Delivery Services Market
Market Witnessing Entry of e-Commerce Players
The Prescription Delivery Service Market is witnessing entry of e-Commerce, pharmacy and retail chains, albeit at a local or regional level. Technological developments, new product launches and collaborations characterize some critical expansion strategies of market players.
Some of the key players in the Prescription Delivery Service Market are: Walgreens Co., Walmart Stores Inc., CVS Health, Giant Eagle Inc., Express Scripts Holding Company, Ali Health and Kroger Co. to name a few.
Besides these established players, several startup companies are also emerging as potential game changers in the industry. These include NetMeds, Kfyao, Capsule, Myra Medicines, NURX, MedAvail, Zipdrug, Insightfil and ScriptDrop to name a few.
Walgreens, a prominent retail pharmaceutical distributor, has a robust presence in the global prescription delivery services market. The company offers refills, auto refills, drug information and home delivery services.
In 2017, the company acquired Rite Aid for a sum of US$ 5.2 billion, resulting in the merger of two of the United States' three largest pharmacy chains.
More Insights on the Prescription Delivery Services Market
A recent market study published by Future Market Insights on the Prescription Delivery Services Market includes global industry analysis for 2015-2019 & opportunity assessment for 2020-2030, and delivers a comprehensive assessment of the most important market dynamics. The report has been segmented on the basis of disease indication (therapeutic drugs (diabetes, hypertension & cholesterol disorders), wellness supplements, OTC drugs and diagnostic drugs) and distribution channel (pharmacy stores, healthcare institutions, clinics and research institutions) across seven geographies (North America, Latin America, Europe, South Asia, East Asia, Oceania and MEA).
Any Queries, Ask an Expert @ https://www.futuremarketinsights.com/ask-question/rep-gb-12534
Key Questions Answered in the Report
How has the Prescription Delivery Services Market fared in the past five years?
The global prescription delivery services market was valued at US$ 29.2 Mn in 2015 and acquired a value of US$ 50 Bn in 2019. This upsurge was largely a product of deepening penetration of e-commerce platforms and smart devices in retail stores to cater to the rapidly increasing demand for prescription medicines for various ailments.
What will be the likely growth scenario for the prescription delivery services market in the forthcoming forecast period?
According to FMI, the prescription delivery services market represents an incremental $ opportunity worth US$ 354 Mn between 2020 and 2030, and an absolute opportunity of US$ 18.4 Mn. A prolific 18.4% CAGR is predicted for the 2020-2030 forecast decade.
What drivers underpin market expansion for the upcoming decade?
Rising incidence of chronic and infectious diseases in the wake of rising life expectancies is pushing consumers to stockpile on essential drugs as they are inexpensive.
Moreover, the market is still in the growth stage, allowing the entry of startups and new entrants who are looking to flood the landscape with technologically advanced delivery mechanisms.
Identify possible impediments or hindrances to the predicted trajectory.
Logistical challenges in terms of distribution of the final drug to appropriate end-users due to the highly diffused nature of distribution networks is proving a major deterrent to growth. This is primarily due to difficulties in co-ordination of transportation and delivery.
Will the COVID-19 pandemic alter the said predictions?
Yes. The COVID-19 pandemic is expected to have an impact on the prescription delivery services market. As lockdown restrictions tighten, patients are opting to make their purchases via e-commerce portals to avail their supply of drugs, helping sustain market demand.