Cold Disposable Biopsy Forceps Market 2021 Outlook, Current and Future Industry Landscape Analysis 2031
According to a recent study by Future Market Insights (FMI), the cold disposable biopsy forceps market is expected to witness high growth during the forecast period. The market value is slated to increase from US$ 505.1 Mn in 2020 to over US$ 1.2 Bn by 2031 at 8.4% CAGR over the forecast period (2021-2031).
The cold disposable biopsy forceps market will register high demand due the rising prevalence bronchitis and gastrointestinal disorders such as IBD and GERD among the geriatric population and the increasing awareness towards endoscopic procedures. There is also a rise in the adoption of disposable biopsy forceps that to be reliable for test sampling expects to gain popularity.
At present, the minimally-invasive technology, with the endoscope system at the core, has been extended to obstetrics, general surgery, otolaryngology, gynecology, thoracic surgery, urology, pediatrics, and other departments. Minimally-invasive endoscopic technology has become an indispensable technology for the diagnosis and treatment of chronic diseases associated with breathing, digestion, urology, otolaryngology, and so on.
With the rising demand for endoscopic minimally-invasive technology and continuous improvement in endoscopic processing technology, endoscopic applications have become prominent in almost all departments. The growing demand for diagnosis and endoscopic treatment is expected to further boost the demand for cold disposable biopsy forceps.
Numerous recent technological advances are becoming available to endoscopists. An abundance of new imaging modalities is expected to facilitate early detection of chronic disorders and other pathological entities. Most of these techniques remain investigational and are currently in clinical trials to determine patient benefits.
Companies are expanding their product lines by manufacturing different types of products for a wide range of applications.
For instance, Micro-Tech Endoscopy is mainly engaged in the R&D, manufacturing, and sales of minimally-invasive medical devices, in line with its mission of supporting clinicians with technology and innovation.
Sales Analysis of Cold Disposable Biopsy Forceps from 2016 to 2020 Vs Market Outlook for 2021 to 2031The cold disposable biopsy forceps market value stood at US$ 505.1 Mn in 2020. The global sales of cold disposable biopsy forceps accounts for nearly 8.8% of the overall biopsy devices market.
The demand in the market is expected to surge at a CAGR of 8.4% between 2021 and 2031 in comparison to the 4.8% CAGR registered during 2016-2020. This growth is highly associated with factors such as the growing healthcare expenditure and the growing demand for minimally invasive diagnostic and surgical endoscopic treatment.
The rising prevalence of gastrointestinal disorders and bronchitis have resulted in higher adoption of endoscopic procedures. This has further expressed propulsion for cold disposable biopsy forceps.
In the field of gastrointestinal endoscopy, the development of new devices and related programs has led to the advancement of diagnostic techniques at a significant rate, but direct tissue sample examination is still the most crucial and accurate diagnostic method. Hence, the nature of an endoscopic biopsy sample is important for a successful tissue diagnosis.
The primary idea of biopsy forceps has not changed much; however, several types of biopsy forceps with various materials and designs are widely used. Growing focus on expanding research and development capabilities in the field of endoscopy have been supported by approvals and launches through key players and the regulatory authorities have led to innovative breakthroughs in the market.
Additionally, the rise in healthcare spending and funding associated with favorable reimbursement have led the manufacturers to invest in the medical device field. This has resulted in increased adoption of disposable biopsy forceps market in coming years.
The market is expected to expand at a considerable growth rate over the next ten years at a CAGR close to 8.4% and offer an absolute $ opportunity of US$ 42.9 Mn from 2021 to 2022.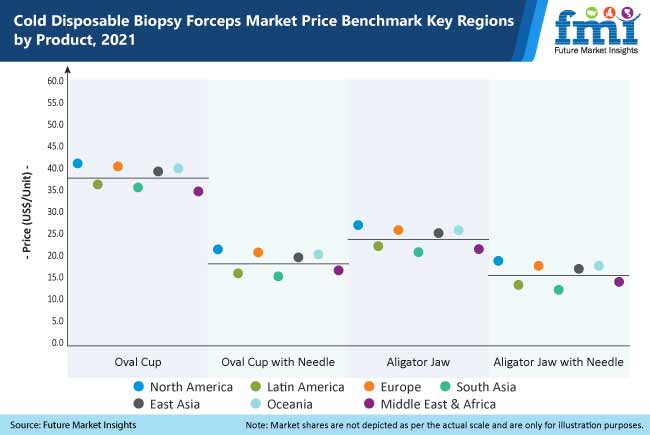 Request Complete TOC Of this Report @ https://www.futuremarketinsights.com/toc/rep-gb-14240
Key Takeaways from Cold Disposable Biopsy Forceps Market Study
Oval cup forceps gained popularity and their sales are expected to grow at a CAGR of 8.8% during the forecast period.
2.8 mm diameter have sharpened cups whch ensure superior cutting performance and lead to fewer artefacts and less bleeding. The segment is therefore expected to account for a share of 24.9% in 2021.
2300 mm length forceps has precise jaws, no tearing and cause small wound. The segment accounted for the highest share of 37.9% in 2021.
Upper GI Endoscopy dominated the application segment with the highest market share of 24.9% in 2021.
Hospitals accounted for the largest share of around 42.0% in 2021 and will remain the end user in the market.
"High prevalence of conditions such as IBD and GERD and growing demand for minimally invasive endoscopic procedures are set to boost the demand for cold disposable biopsy forceps market over the next decade," says the Future Market Insights analyst.
Who is winning?The key players are focusing on acquisitions and partnerships with small players and suppliers to increase their market presence. Besides this, they are adopting various strategies to expand their footprint. For instance:
iIn April 2018, Boston Scientific Corporation closed its acquisition of NxThera. The company developed a minimally-invasive therapy the Rezūm system, for patients suffering from symptomatic benign prostatic hyperplasia. With the completion of the acquisition, NxThera became a part of Boston Scientific's urology and pelvic health business. Moreover, the manufacturers are focusing on research and development activities for developing cold disposable biopsy forceps for various research applications.
In july 2020, ChargePoint and STERIS collaborated to develop a fully validated sterile transfer solution to offer a unique and integrated solution for sterile product transfer.
Some of the leading players in the cold disposable biopsy forceps market include but are not limited to Olympus Corporation, Boston Scientific Corporation, STERIS, CONMED Corporation, Cook Medical, Micro-Tech Endoscopy, Anrei Medical and other companies.
Want more insights?Future Market Insights brings the comprehensive research report on forecasted revenue growth at global, regional, and country levels and provides an analysis of the latest industry trends in each of the sub-segments from 2016 to 2031. The global cold disposable biopsy forceps market is segmented in detail to cover every aspect of the market and present a complete market intelligence approach to the reader. The cold disposable biopsy forceps market is segmented into six parts based on product (oval cup, oval cup with needle, alligator jaw, alligator jaw with needle) based on diameter (1.2mm, 1.8mm, 2.0mm, 2.4mm, 2.8mm, 3.7mm) based on length (1150 mm, 1550 mm, 2300 mm), based on application (enteroscopy, upper GI endoscopy, lower GI endoscopy, bronchoscopy and others, based on end user (hospitals, ambulatory surgical centers specialty clinics, diagnostic laboratories, and cancer research institutes) and across seven major regions.
Key Market Segments Covered in Cold Disposable Biopsy Forceps Industry ResearchBy Product:
Oval Cup
Oval Cup with Needle
Alligator Jaw
Alligator Jaw with Needle
By Diameter Size:
1.2mm
1.8mm
2.0mm
2.4mm
2.8mm
3.7mm
By Length:
By Application:
Enteroscopy
Upper GI Endoscopy
Lower GI Endoscopy
Bronchoscopy
Others
By End User:
Enteroscopy
Upper GI Endoscopy
Lower GI Endoscopy
Bronchoscopy
Others
By Region:
North America
Latin America
Europe
East Asia
South Asia
Oceania
Middle East & Africa (MEA)