Medical Rehabilitation Robotics Market 2021 Outlook, Current and Future Industry Landscape Analysis 2031
As per a recent market analysis by Future Market Insights (FMI), the global medical rehabilitation robotics market was valued at over US$ 264.0 Mn in 2020 and is projected to expand at a stupendous 15.9% CAGR over the forecast period.
Increasing development of robotic products and devices that have the ability to perform a wide array of tasks is propelling sales in the market. Surgical robots are developed for the purpose of assisting surgeons in operating on a varied range of procedures, which in turn is improving patient outcomes.
The designing and development of automated robotic models for rehabilitation and assistive services and applications have led to an advancement in disease recovery term. Rising awareness regarding the use of medical rehabilitation robotics for patients with disabilities, as well as for cognitive and behavioral disorders is spurring demand in the market.
The growth in rehabilitation therapy and integrated robotics has increased research and development activities associated with their applications in home-based settings. In comparison with clinical therapy, home therapy has the potential to augment standard care and enable a consistent treatment regime by increasing the frequency and duration of training sessions.
Carrying out rehabilitation services at home offers convenience and comfort. Growing preference for affordable, convenient, and time-saving robotic devices over other therapy devices in hospitals settings is expected to augment the growth of the market.
The development of medical rehabilitation robotics market is reliant on increasing healthcare spending, rising research and development activities, larger government-backed funding, and rising initiatives to promote the utility of rehabilitation robots
2016-2020 Medical Rehabilitation Robotics Market Overview Compared to 2021-2031 ForecastThe development in automation and robotic technology has surged in the last few years. Advances in automation and the development of medical robots have now penetrated into various fields of medicine, particularly in surgery and rehabilitation.
In comparison to conventional approaches, medical robotics have numerous benefits such as enhanced diagnostics capabilities, minor incisions during surgery, greater precision, lower risks of infections, better patient outcomes with a reduced time for healing, and longer lifespan.
These products comprise automated systems that deliver therapeutic treatment to patients for improving their physical, social, and cognitive function; and support patients with chronic disabilities to resume their day to day activities with ease.
Rehabilitation therapies include upper-extremity movement therapies and lower-extremity movement therapies, communication-enabling for children with autism and exploration-enabling for children with cerebral palsy (CP) and other cognitive disabilities.
Various research organizations are investigating the procedures based on monitoring patient performance, endurance, and emotional state. Anticipating objectives related to patient movement and modelling internal states aides with the management of adaptive patient– robot interaction.
This method is expected to lead the way to a new generation of medical rehabilitation robotic devices with the incorporation of bio-cooperative controllers, in which, the psychophysiological and biomechanical data is utilized as feedback for updating robot control.
The applications for automated robotics are set to rise with improvements in materials, higher robustness, control software, and minimizing size of sensors and actuators which will allow design and modelling using mechatronics technology to improve the health of people with disabilities.
Driven by these factors, sales are poised to grow at a 15.9% CAGR, creating an incremental opportunity of US$ 54.8 Mn between 2021 and 2022.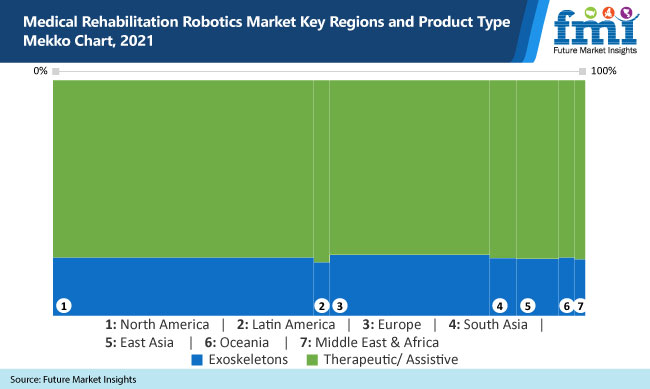 Request Complete TOC Of this Report @ https://www.futuremarketinsights.com/toc/rep-gb-14242
Key Takeaways:
Based on product type, demand in the therapeutic/assistive products is expected to account for 71.8% of the total market share in 2031, growing at a 15.4% CAGR.
In terms of extremity, the upper extremity segment is expected to hold 54.8%of the total market share by 2031.
Sales in the limb motility segment are projected to grow at a 15.9% CAGR through 2031.
In terms of patient type, the adults segment held 86.9% of the total market share in 2020, and the trend is expected to continue over the forecast period.
Applications in the neurorehabilitation segment are projected to account for a substantial share in the global medical rehabilitation robotics market.
Rehabilitation centers held the largest value share of 47.7% in 2020. However, hospitals are expected to account for 36.9% of the total market share by 2031.
"The integration of automation and assistive technology in medical equipment, along with surging demand for artificial intelligence (AI) based robotics in rehabilitation centers will continue boosting the market over the forecast period," says an FMI analyst.
Competition LandscapeLeading players operating in the market are investing in acquisitions, mergers, expansion, and the development of an extensive clinical pipeline to improve sales in the market. Besides this, players are expandingtheir product portfolios to increase their consumer base. For instance:
In October 2021, Fourier Intelligence was selected and awarded the Top 4 Leading Rehabilitation Technology Enterprise by KPMG and the China Association of Non-Public Health Institutions, co-organized by the Health Sector Strategy at an event that was held in Shanghai.
In December 2020, Anthrtonix DANA, a telehealth tool by AnthroTronix, was used at the Johns Hopkins Hospital to identify and monitor cognitive deficits and recovery of COVID-19 patients.
What Does the Report Cover?Future Market Insights offers a unique perspective and actionable insights on the medical rehabilitation robotics market in its latest study, presenting historical demand assessment of 2016 – 2020 and projections for 2021 – 2031.
The research study is based on the Product – (Exoskeletons and Therapeutic/ Assistive), Extremity- (Upper Extremity and Lower Extremity), Therapy Type (Limb Mobility, Gait and Sensory), Patient Type (Adult and Paediatric), Application (Neurorehabilitation, Physical Rehabilitation and Others) and End User (Hospitals, Wellness Centers, Rehabilitation Centers and Homecare) across seven key regions of the world.
Future Market Insights' Expertise in Life Sciences and Transformational HealthOur expert team of industry analysts comprising management graduates, medical professionals, engineers, and project managers provides insights on emerging therapy areas, diagnostic tools, medical devices and components, reimbursement and market access, biotechnology, and life science research products and services to equip decision-makers with sound inputs and strategic recommendations. Click here to learn more about how we zero in on the critical aspects of this industry.