Automated Contouring Radiotherapy Software Market Industry Analysis, Opportunities, Technology, Demand, Top Players and Growth Forecast 2028
Factors Driving the Automated Contouring Radiotherapy Software Market
The global market for automated contouring radiotherapy software is driven by the increasing adoption rate for radiotherapy procedures. The number of cancer patients globally by every passing year is growing. However, 40% of the population fails to receive a proper treatment due to high cost and accessibility. Healthcare bodies are providing different resources in order to omit the rise in cases of oncology, whereas low and middle economy countries are coming with an upfront investment in order to provide aid to the society. Automated contouring radiotherapy software is completely dependent on the type of radiotherapy device used, and with high incidence of oncological cases observed the demand for automated contouring radiotherapy software is increasing. Also, increasing government funding for research in advanced medical treatment with concern to safety of patients is expected to drive the revenue growth of global automated contouring radiotherapy software market.
As radiation therapy has become more complex in its procedures, new methods are devised to treat patients. Many features are being constantly added to improve the traditional application, with the same end goal of treating the cancer growth. Radiotherapy depends on an accurate definition of tumor and normal tissues. Variations in contours defining the tumor and normal tissues are analyzed using contouring studies, where multiple contours are generated either by a number of observers (inter-observer) or a single observer (intra-observer). Automated contouring software are frequently used in order to investigate the differences between multiple databases. However, there is no single accepted contouring method widely proposed. The field of radiotherapy has succeeded on the base of many advancements, in this case, the image-guided radiotherapy, which has substantially grown in the past 15 years. To streamline the complex procedures involved in radiotherapy multimodality, IGRT technologies are used for better and understandable results.
Considerable Impact on Current Practices
Several reasons state that manual contouring is an error-prone subject to both inter and intra participants. The modern technology-based models working on the new conformal radiation techniques, such as intensity modulated radiotherapy to proton beam radiation therapy (PBRT), are observing a shift towards use of compatible automated contouring radiotherapy software. The changes taking place throughout the course need a practice of a week or more to account each detail such as dosage delivered and constant observations made by the manual labour involved in the procedure. The scope of errors is reduced with the incipient of modern automated contouring radiotherapy software in the healthcare sector. Besides the abovementioned gaps in the healthcare sector and the fact that there are radiation therapies covering a part large of the sector, the automated software provides a routinely defined high level of automation and improved patient outcomes. The effective approach provided by the automated contouring radiotherapy software provides a considerable impact on the older practices, which require more time and space.
To remain ahead of your competitors, request for a sample – https://www.futuremarketinsights.com/reports/sample/rep-gb-6709
Automated Contouring Radiotherapy Software Market Assessment by End User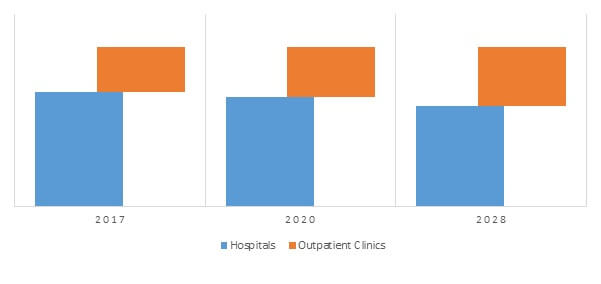 Majorly used By the End-User Segment
Hospitals pose a strong position in the market as the in-house departments in hospitals are majorly focused on radiotherapy procedures. The rising healthcare concerns and changing governmental regulations to minimize the errors in the treatment have resulted in high penetration of the automated contouring radiotherapy software for the radiotherapy devices, which provides an easier and efficient approach to diagnose oncological cases. However, continuing growth of homecare settings to reduce the hospital stay and cost containment is expected boost the growth of the automated contouring radiotherapy software market in the respective clinics for an efficient approach. Further, rising awareness among the end users to increase the patient compliance is expected to boost the growth of the automated contouring radiotherapy software market
Regional Market Outlook
North America continues to dominate the global market for automated contouring radiotherapy software market due to the high penetration of the automated contouring radiotherapy software among the end users and more number of radiotherapy courses. Europe is expected to hold the second large market share in global automated contouring radiotherapy market due growing awareness regarding the need of the treatment. Asia Pacific (exc. Japan and China) due to its high population density, translating into more absolute need for radiotherapy treatments and is observed to be the market to grow majorly. Separate growth of regional industries provides a broader outlook of the market
Get a Tailored Made Report to Match Your requirements, Ask from Market Research Expert – https://www.futuremarketinsights.com/ask-question/rep-gb-6709
Competition Outlook
Examples of some of the players identified in the global automated contouring radiotherapy software market are as follows:
Small-Scale Manufacturers/Providers:
Standard Imaging
Vision RT Ltd
RaySearch Laboratories
MOLECUBES
Large-Scale Manufacturers/Providers:
Varian
Brainlab
Elekta
LifeLine Software, Inc
IBA Dosimetry
Modus Medical Devices
DOSIsoft
Key Data Points Covered in Report
The report covers exhaustive analysis on:
Automated Contouring Radiotherapy Software Market by product type, end user and region
Regional level market analysis of North America, Latin America, Western Europe, Eastern Europe, Asia Pacific Excluding Japan and China, Middle East & Africa by product type, end user and country segments
Automated Contouring Radiotherapy Software Market Dynamics & Opportunity Assessment
Historical Actual Market Size, 2013 – 2017
Automated Contouring Radiotherapy Software Market Size & Forecast 2018-2028
Automated Contouring Radiotherapy Software Agents Current Trends/Issues/Challenges
Competition & Companies involved
Research Methodology
The market sizing of automated contouring radiotherapy software will be done by the adoption data triangulation approach. The demand-side approach will be followed to assess the actual market size of automated contouring radiotherapy.
Desk research will be performed at the initial phase to identify the feasibility of the target product/technology categories and its respective segments, product and service offerings, equipment installed base in end-use facilities, adoption rate and future impact of new technologies. Each piece of information will be eventually analyzed during the entire research project, which will help to build a strong base for the primary research information.
The on-field research participants that we track include demand-side respondents such as veterinary clinics, procurement managers, as well as key opinion leaders in addition to supply-side respondents such as equipment manufacturers, service providers who provide valuable insights on trends, research application of products and technologies, purchasing patterns, services offered and associated pricing.
Market Segmentation
By End user
Hospitals
Specialized Clinics
By Region
North America
Latin America
Western Europe
Eastern Europe
Asia Pacific Excluding Japan and China
Japan
China
Middle East & Africa
For in-depth insights, Download a PDF Brochure – https://www.futuremarketinsights.com/reports/brochure/rep-gb-6709
Report Highlights:
Shifting industry dynamics
In-depth market segmentation
Historical, current and projected industry size Recent industry trends
Key competition landscape, market structure, regulatory scenario
Epidemiology outlook
Economical spending, regional healthcare outlook, consumer healthcare expenditure
Strategies for key players and product offerings, channel strategies, regional foot print, channel footprint
Potential and niche segments/regions exhibiting promising growth
A neutral perspective towards market performance in terms of value and volume