Eye Infections Treatment Market is anticipated to reach a worth of US$ 9.9 Bn by the end of 2030 | FMI
Increasing prevalence of eye infections due to ocular surgical procedures is primarily shaping eye infection treatment market. A recent Future Market Insights (FMI) report forecasts that even though the eye infection treatment market would continue to experience a downtrend throughout 2022 due to COVId-19 pandemic, revenues would reach US$ 10 Bn by the end of 2030. Post-operative ocular infections remain among the most common eye infection types, says the FMI study.
Rising Caseloads
Caseloads of ocular surgical conditions such as cataracts, glaucoma, age-related macular degeneration (AMD), and diabetic retinopathy are growing due to sedentary lifestyle habits, and expanding geriatric cohort. According to the US statistics 2021, cataracts affect over 24 million Americans aging at least 40 years.
By age 75, about half of the Americans suffer from cataract. Further, diabetic retinopathy affects nearly 7.7 million Americans aging at least 40 years. In similar fashion, there were 48,229 corneal transplants performed in the US in 2015.
Demand for eye infection treatment will continue to receive a strong impetus from increasing awareness about different eye infection types and availability of treatment, further complemented by technological advancements on ophthalmology.
Request Sample PDF Brochure:
https://www.futuremarketinsights.com/reports/sample/rep-gb-1300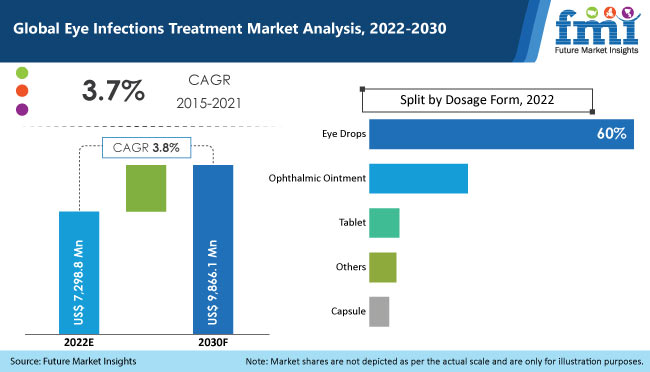 Key Takeaways of Eye Infection Treatment Market Study
Antibiotics would contribute over 55% revenue share in the eye infection treatment market owing to their use in treating primary eye infections and post-surgical eye infections.
Eye drop sales capture over 60% market share in the eye infection treatment market.
Conjunctivitis would account for a third of eye infection treatment demand through 2030.
Bacterial infections continue to account for over 3/5th market share.
Hospitals and retail pharmacies collectively generate over 70% total returns to shareholders.
Increasing rate of eye surgeries and rising usage of contact lenses continue to push North American market. European market would be upheld by the expanding geriatric pool.
Demand for Eye Infection Drugs to Slump Amidst COVID-19 Pandemic
The coronavirus (COVID-19) pandemic has resulted in widened gap between supply and demand of eye infection treatments. As such, it has significantly reduced ocular surgery rate for short-term basis and, in turn, post-operative eye infections.
According to World Health Organization (WHO), national healthcare resources redirection and utilization to contain COVID-19 pandemic is expected to delay and reschedule the treatment of non-critical healthcare conditions for brief period, including eye care services, and ocular surgeries.
Development and Licensing Deals with Multiple Commercialization Partners
Technology developers are laying greater emphasis on developing of novel ophthalmic formulation technologies and engaging with commercialization partners with licensing-out proprietary ophthalmic technologies.
For instance, Nicox S.A. has licensed out ZERVIATE (cetirizine ophthalmic solution) 0.24% to Eyevance Pharmaceuticals LLC for commercialization of ZERVIATE in the US. ZERVIATE is the first topical ocular formulation of antihistamine cetirizine approved for treatment of ocular itching associated with allergic conjunctivitis. In addition, Ocumension Therapeutics is responsible for all development and commercialization activities in Chinese market for ZERVIATE.
Ask for Customization:
https://www.futuremarketinsights.com/customization-available/rep-gb-1300
Key Segments:
By Drug Class :
Antibiotics

Sulfonamides
Macrolides
Erythromycin
Chloramphenicol
Aminoglycosides
Fluoroquinolones
Vancomycin
Tetracyclines

Antivirals

Thymidine-Based Nucleoside Analogues (Trifluridine)
Thymidine Phosphorylase Inhibitors (Trifluridine)
Acyclic Nucleoside Analogue of 2'Deoxyguanasine (Ganciclovir)
Acyclic Guanine Nucleoside Analog (Acyclovir)
Others

Antifungals

Polyenes (Amphotericin B (AMB) And Natamycin (NTM))
Azoles (Miconazole (MCZ), Econazole (ECZ) And Ketoconazole (KCZ))
Pyrimidines
Echinocandins (Caspofungin (CFG) and Micafungin (MFG))
Others

Antihistamines
Corticosteroids
Glucocorticoids
By Dosage Form :
Eye Infections Treatment Tablets
Eye Infections Treatment Capsules
Eye Infections Treatment Ophthalmic Ointments
Eye Infections Treatment Eye Drops
Others
By Indication :
Eye Infections Treatment for Conjunctivitis
Eye Infections Treatment for Keratitis
Eye Infections Treatment for Endophthalmitis
Eye Infections Treatment for Blepharitis
Eye Infections Treatment for Stye or Sty (Hordeolum)
Eye Infections Treatment for Uveitis
Eye Infections Treatment for Cellulitis
Eye Infections Treatment for Ocular Herpes
By Causative Agent :
Virus
Bacteria
Fungus
Allergens
Get In Touch With Our Team For 20% Flat Discount:
https://www.futuremarketinsights.com/ask-question/rep-gb-1300
By Distribution Channels :
Hospital Pharmacies
Retail Pharmacies
Online Pharmacies
Drug Stores
By Region :
North America Eye Infections Treatment Market
Latin America Eye Infections Treatment Market
Europe Eye Infections Treatment Market
East Asia Eye Infections Treatment Market
South Asia & Pacific Eye Infections Treatment Market
Middle East & Africa (MEA) Eye Infections Treatment Market
About FMI:
Future Market Insights (ESOMAR certified market research organization and a member of Greater New York Chamber of Commerce) provides in-depth insights into governing factors elevating the demand in the market. It discloses opportunities that will favor the market growth in various segments on the basis of Source, Application, Sales Channel and End Use over the next 10-years.
Contact Us:
Future Market Insights,
Unit No: 1602-006,
Jumeirah Bay 2,
Plot No: JLT-PH2-X2A,
Jumeirah Lakes Towers,
Dubai,
United Arab Emirates
For Sales Enquiries: sales@futuremarketinsights.com
Website: https://www.futuremarketinsights.com
LinkedIn| Twitter| Blogs