Ophthalmic Lasers Market is projected to increase from a valuation of US$ 884.3 Mn in 2022 to US$ 1.3 Bn by 2030 | Future Market Insights
The global ophthalmic lasers market is anticipated to grow from a market value of US$ 884.3 Mn in 2022 to US$ 1.3 Bn by 2030, expanding at a moderate CAGR of 5.4%.
Technological advancements have deeply penetrated every facet of the healthcare industry, and the ophthalmic lasers market growth is no exception. Over the years, ophthalmic disorders such as diabetic retinopathy, refractive errors, glaucoma, cataract and age related macular degeneration (AMD) have surged exponentially. This has accelerated demand for advanced surgical procedures.
The introduction of ophthalmic laser surgery has revolutionized ophthalmic care in unprecedented ways. Majority of these technologies are being deployed in cataract surgeries, attributed to the disorder's widespread prevalence across all continents. Advancements such femtosecond laser surgeries have proven highly instrumental in streamlining ophthalmic procedures, offering lightning speed detection of faulty tissues.
Request Sample Report@ https://www.futuremarketinsights.com/reports/sample/rep-gb-1529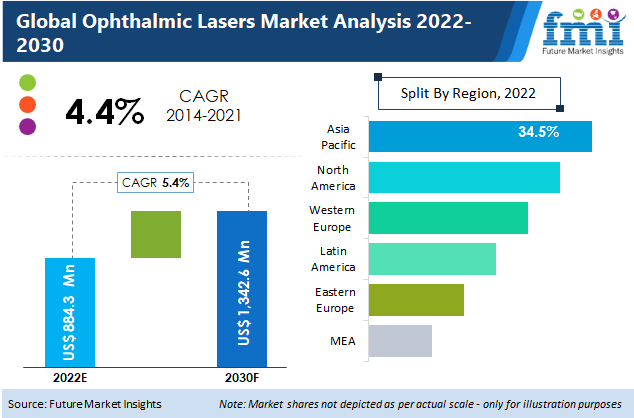 Such reduced detection and treatment timeframes act as major growth catalysts for the global ophthalmic lasers market, which is anticipated to reach a value of US$ 1.3 Bn by 2030.
Consumers have long placed a high importance on keeping good eye health in order to preserve their vision. The market size for ophthalmic laser machines is expanding, providing attractive prospects for ophthalmic laser producers thanks to rising spending on keeping good eye health and rising awareness of various ophthalmic disorders.
Growing consumer desire for minimally invasive laser treatments and the quick expansion of the eye infection treatment market have a significant impact on ophthalmic laser sales.
Ophthalmic lasers are special treatments used to repair damaged corneas and treat disorders that might impair vision, including glaucoma, macular degeneration, and diabetic retinopathy. Due to their safe, precise, and accurate character, they have grown to be highly sought-after goods utilised in surgical treatment for a variety of eye problems.
As diabetes incidence increases globally, there has been a noticeable increase in the number of prevalent ocular problems over the past few years, including cataract, glaucoma, and others. During the projected period, this is anticipated to offer a favourable environment for the leading producers of ophthalmic laser devices.
The market for ophthalmic laser devices is therefore growing as there is a growing preference for safe and efficient techniques like laser vision correction (LVC) to do away with the necessity for glasses or contact lenses.
Ask the Analyst@ https://www.futuremarketinsights.com/ask-question/rep-gb-1529
During the evaluation period, it is also anticipated that the market for laser therapy equipment would thrive and that the popularity of minimally invasive surgeries will increase.
Ophthalmic laser sales made up around 41% of the US$ 2.0 Billion global market for laser therapy equipment in 2021, according to Future Market Insights (FMI).
Leading producers of ophthalmic lasers are anticipated to spend more on improved product designs and technological advancements in order to offer ophthalmologists cutting-edge products for use in routine ocular procedures. Due to this, demand for ophthalmic laser equipment will increase during the ensuing time.
Ophthalmic Lasers Market- Key Highlights
Ophthalmic lasers market shall expand steadily at a CAGR of 5.4% from 2022-2030
Cataract surgeries shall account for the majority share of the global ophthalmic lasers market
Femtosecond laser surgery to hold maximum sway throughout the forecast period
North America shall retain market hegemony, owing to increasing regulatory approvals for laser surgeries by authorities
Asia & Europe to contribute nearly identical revenue shares due to rise in surgeries amidst their geriatric population
"Vendors in the ophthalmic lasers landscape are striving to introduce novel product lines, equipped with multi-frequency selection modes to reduce exposure to intense laser bursts, preventing healthy tissue damage," infers the FMI analyst.
Request for Customization@ https://www.futuremarketinsights.com/customization-available/REP-GB-1529
Competition Dashboard
Prominent vendors in the ophthalmic lasers market include are ZEISS International, Nidek Inc., Bausch & Lomb Inc., Abbot Laboratories Inc., SCHWIND Eye-Tech Solutions, Ziemer Ophthalmic Systems AG, Novartis AG (Alcon), LENSAR LLC., iVIS Technologies and NKT Photonics A/S. New product launches and collaborations have helped these players acquire firm footing.
In 2018, ZEISS International rolled out its VISUFIT 1000 digital 3D centration data determination and consultation platform, offering a three-dimensional facial reconstruction which enables ophthalmologists perform precise centration processes on patients.
In July 2022, SCHWIND Eye-Tech acquired CE approval for its SCHWIND ATOS femtosecond laser, permitting eye surgeons to incorporate the technology in their SmartSight refractive surgery procedures.
More Insights on the Ophthalmic Lasers Market
A recent market study published by FMI on the ophthalmic lasers market includes the global industry analysis of 2014-2021 & opportunity assessment for 2022-2030, and delivers a comprehensive assessment of the most important market dynamics. The report provides a balanced, unbiased analysis of the overall market scenario based on product type (excimer lasers and femtosecond lasers), application (refractive surgery, cataract surgery, capsulotomy, trabeculoplasty and diagnostics), end-user (hospitals, ophthalmology clinics and ambulatory surgical centers) and region (North America, Latin America, Europe, East Asia, South Asia, Oceania and Middle East & Africa).
Ophthalmic lasers market by Category
By Product:
Excimer Lasers
Femtosecond Laser
By Application:
Refractive Surgery
Cataract Surgery
Posterior Capsulotomy
Trabeculoplasty
Diagnostic
By End user:
Hospital

500 Bedded+
250-499 Bedded
Less than 250

Ambulatory Surgical Centers
Ophthalmology Clinics
Top Related Reports Healthcare Market Insights
Excimer and Femtosecond Ophthalmic Lasers Market : size reached US$ 1.02 Bn in 2021 and is expected to touch a valuation of US$ 1.18 Bn by the end of 2022.
Tattoo Removal Lasers Market : is projected to increase from a valuation of US$ 235.2 Mn in 2022 to US$ 328.5 Mn by 2028.
Ophthalmic Diagnostic Equipment Market : is expected to increase from a valuation of US$ 3.0 Bn in 2022 to US$ 5.1 Bn by 2030.
Ophthalmic Eye Drops Market : Emergence of new pathogens, increasing number of post-operative eye infections and poor eye hygiene are likely to boost the global ophthalmic eye drops market.
Peripheral Vascular Devices Market : is expected to enjoy a valuation of US$ 4.7 Bn by the end of the year 2022, and further expand at a CAGR of 6.6% to reach a valuation of ~US$ 8.9 Bn by the year 2032.
About Future Market Insights (FMI)
Future Market Insights (ESOMAR certified market research organization and a member of Greater New York Chamber of Commerce) provides in-depth insights into governing factors elevating the demand in the market. It discloses opportunities that will favor the market growth in various segments on the basis of Source, Application, Sales Channel and End Use over the next 8-years.
Contact:
Future Market Insights, Inc.
Christiana Corporate, 200 Continental Drive,
Suite 401, Newark, Delaware – 19713, USA
T: +1-845-579-5705
For Sales Enquiries: sales@futuremarketinsights.com
Browse All Reports: https://www.futuremarketinsights.com/reports
LinkedIn| Twitter| Blogs