First Observational Study Initiated in Sanfilippo Syndrome Type D
Potential lead-in trial to drug trial of novel enzyme replacement therapy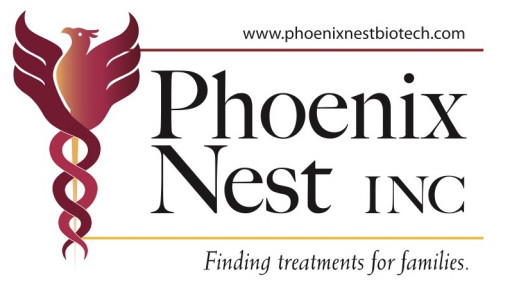 Phoenix Nest
Logo
BROOKLYN, N.Y. - January 10, 2023 - (
Newswire.com
)
Phoenix Nest, a company founded on the love of parents and caregivers to treat their children affected with Sanfilippo syndrome, announces today the launch of ALL-127, a Natural History Study (NHS) of Sanfilippo syndrome type D. This will be a single-center site performed at Columbia University Irving Medical Center. The study will evaluate patients with Sanfilippo syndrome type D to assess the course of the syndrome and may act as a lead-in to an interventional trial of ALL-027, an enzyme replacement therapy in Phoenix Nest's pipeline.
Sanfilippo syndrome type D is a rare, fatal neurodegenerative genetic disorder. Children appear normal at birth and present with speech and cognitive delays in early childhood, followed by hyperactivity and behavioral disorders.
"This is an underserved patient population in desperate need of treatments. There are no approved treatments and very few drugs available to alleviate the symptoms. This study will help us further understand the course of the disease and define appropriate endpoints for our planned interventional trial," says Jill Wood, CEO of Phoenix Nest and parent of a child affected by Sanfilippo syndrome.
About the Natural History Study
ALL-127 encompasses a range of assessments chosen to capture the patients' cognitive abilities, mobility, and clinical changes. Up to 10 participants from around the world are expected to enroll and come to the site for three annual visits. These participants will also provide video capture remotely via their smart phone. Video capture will be completed on the "RARE" app every six months over the course of two years. The natural history study is designed to capture the disease progression for each child and is intended to act as the lead-in for an interventional trial of Phoenix Nest's lead therapy, ALL-027. The study will also determine clinically meaningful outcome measures to be used in future interventional trials.
"Natural history studies in rare diseases like Sanfilippo syndrome are a critical preparatory step to provide a baseline against which to compare outcomes in studies of new treatments. Data from this study will provide critical information to plan a future clinical trial," says Wendy Chung, MD, PhD, a clinical geneticist at Columbia University Irving Medical Center and principal investigator of the study.
The study is supported by a $3.4 million grant from the National Institute of Neurological Disorders and Stroke of the National Institute of Health (NIH/NINDS) under award number UB1NS122644.
About the Recording Application for Real-world Evidence (RARE) app
The RARE app will assess nine different tasks videotaped by the patient's caregiver via their smart phone. The tasks include activities of daily living and designed to capture small changes that would otherwise be hard to document in a clinical setting. Sanfilippo syndrome causes hyperactivity, behavioral problems, and the loss of sight and hearing, making it difficult for clinicians to assess the child's medical condition and cognitive functions during study visits. For more information about ALL-127, you can find it at https://clinicaltrials.gov.
About Sanfilippo syndrome type D
Sanfilippo syndrome, also known as mucopolysaccharidosis type III (MPS III), is part of a family of rare and fatal hereditary lysosomal storage disorders. Sanfilippo syndrome leads to accumulation of substrate in cells throughout the body, particularly the brain. MPS IIID is one of the four subtypes of Sanfilippo A-D and is thought to be the rarest form. Individually, Sanfilippo syndromes are ultra-rare but combined have an incidence of 1 in 70,000 births. There are no approved treatments for any form of Sanfilippo.
About Phoenix Nest
Phoenix Nest is focused on developing life-changing medicines for patients and their families affected by Sanfilippo syndrome. We partner with leading academic researchers, patient advocacy organizations, and caregivers to bring therapies for Sanfilippo syndrome to fruition. To date, Phoenix Nest has been the recipient of six NIH/NINDS grants and is actively seeking partnerships to help bring its gene therapy program for Sanfilippo type C, JLK-247, and enzyme replacement therapy for type D, ALL-027, to the clinic. For more information, visit phoenixnestbiotech.com.
Site Coordinator Contact
Joanne Carroll, Columbia University Irving Medical Center
jc688@cumc.columbia.edu
Contact Information:
Jill Wood
CEO
jwood@phoenixnestbiotech.com
9179090553
Press Release Service by
Newswire.com
Original Source:
First Observational Study Initiated in Sanfilippo Syndrome Type D
Last Updated: 10-Jan-2023