Large Target Patient Pool is developing an Incredible Scope for Anti-Adhesion Barrier Gels Market | Future Market Insights
As per Future Market Insights' latest industry analysis, the valuation for the global Anti-adhesion Barrier Gels Market is estimated to be around US$ 93.4 Million in 2022 and is projected to exhibit a CAGR growth of close to 8.4% over the forecast period, with an estimated valuation of US$ 209.8 Million in 2032.
An adhesion barrier as recognized by FDA is a medical implant that separates internal tissues and organs during healing, post-surgical procedures. Their main function is to reduce abnormal internal scarring also known as adhesions. Various companies manufacture anti-adhesion barrier products in the form of gels or sheets which are utilized during various surgical procedures.
Commercially available anti-adhesion materials are composed of sodium hyaluronate, Carboxymethylcellulose or even oxidized regenerated cellulose. As adhesion barriers, such as hyaluronic acid, have the highest penetration rate in orthopedic procedures. A consistent rise in the number of patients undergoing fracture repair surgery and, coronary artery bypass grafting is expected to drive the demand for these products across the globe.
Download Sample Copy: https://www.futuremarketinsights.com/reports/sample/rep-gb-15678
During surgeries such as abdominal surgery, adhesion formation is a very common complication, wherein more than 90% of the patients develop intra-abdominal adhesions post-surgery. This leads to issues like infertility, small bowel obstruction, pelvic pain etc. Moreover, many a times, there are readmissions pertaining to these issues while many require further surgery which raises the difficulty and duration of these surgeries, thereby affecting patient's quality of life significantly.
The use of cutting-edge technologies by surgeons to treat post-surgical adhesion has opened up new opportunities for pharmaceutical businesses to generate income. Since there is no specific medication available for the prevention of surgical adhesions, using adhesion barriers gels is an efficient strategy to lessen or avoid the incidence, extent, severity and concerns of post-surgical adhesions.
Due to the fact that adhesive barriers are the only treatment option for post-surgical adhesions, demand for adhesion barriers is anticipated to increase over the projected period.
Key Takeaways from Market Study
Hyaluronic acid is the leading segment by product, and held 2% market value share in 2021, owing to its usage in surgeries and sport-related injuries.
Surgical Applications held a market share of 3% in 2021 owing to a rise in surgeries in different sectors such as cardiology, neurology and others.
By end user, hospitals are leading in the global anti-adhesion barrier gels market, and are expected to continue to do so with a projected CAGR rate of 9% during the forecasted years.
Inquire Before Buying Research Report: https://www.futuremarketinsights.com/ask-question/rep-gb-15678
North America is considered the leading region with a value share of 5% in 2021, owing to the large number of manufacturers and growing patient pool in the region.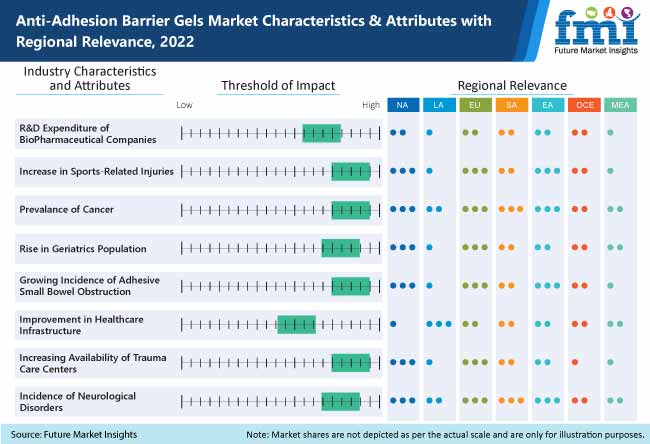 "Rising number surgical procedures along with growing demand for adhesion barriers post-surgery is set to propel the sales of anti-adhesion barrier gels across the globe," says an analyst of Future Market Insights.
Market Competition
Investing in business inorganically has been the hallmark to bring strong business growth and most players in the adhesion barriers market are following this trend, which directly contributes to revenue growth, increasing product portfolio, and expanding presence and distribution network in different geographies. The general competitive environment in the anti-adhesion barrier gels market is characterized by consolidation activities such as joint ventures and new product launches.
In January 26, 2020, Terumo Launched New Surgical Sealant AQUABRID® in EMEA Market.
In Jan 2017, Terumo acquired brands form Abbott Laboratories. The two brands namely Angio-Seal and FemoSeal, vascular closure devices are expected to boost Terumo's existing product portfolio in growing segments through both in-house development and external investment
Key Companies Profiled:
LG Chem Life Sciences Company
Anika Therapeutics
FzioMed, Inc.
Normedi Nordic
Betatech
Bioscompass
Klas
Terumo
BioRegen Biomedical
CGBIO
Shing Poong Pharma Co.LTD
Hangzhou Singclean Medical Products Co., Ltd.
Genewel
Kyeron
Hanohai Biological
PlantTec Medical GmbH
Buy Now/Purchase: https://www.futuremarketinsights.com/checkout/15678
Key Market Segments Covered in the Anti-Adhesion Barrier Gels Industry Research
By Product:
Hyaluronic acid
Carboxymethylcellulose
polyethylene oxides
By Application:
Surgical Applications

Urological & Gynecological Surgeries
Orthopedic Surgeries
Abdominal surgeries
Neurological Surgeries
Cardiovascular Surgeries
Reconstructive and Plastic Surgeries
Others

Trauma Cases
By End User:
Hospitals
Ambulatory Surgical Centers
Specialty Clinics
About Future Market Insights (FMI)
Future Market Insights (ESOMAR-certified market research organization and a member of the Greater New York Chamber of Commerce) provides in-depth insights into governing factors elevating the demand in the market. It discloses opportunities that will favor the market growth in various segments on the basis of Source, Application, Sales Channel, and End Use over the next 10 years.
Contact:
Future Market Insights, Inc.
Christiana Corporate, 200 Continental Drive,
Suite 401, Newark, Delaware – 19713, USA
T: +1-845-579-5705
For Sales Enquiries: sales@futuremarketinsights.com
Browse All Reports: https://www.futuremarketinsights.com/reports
LinkedIn| Twitter| Blogs