Infusion Pumps Market is expected to reach a valuation of US$ 6.6 Billion at a CAGR of 5.0% by 2030 | FMI
According to Future Market Insights (FMI), the global Infusion Pumps Market was valued at US$ 4.4 billion in 2022 and is expected to reach US$ 6.6 billion by 2030.
Consequently, there has also been an increase in associated co-morbidities such as strokes, heart attacks, kidney failure, and visual impairment. As a result, infusion pump usage has an uptick in order to provide the appropriate medication and nutritional input.
To facilitate efficient drug delivery, manufacturers have incorporated various technological advancements in recent years. Additionally, the advent of wearable and smart infusion pumps is further fueling the market's revenue prospects.
Download Sample Copy: https://www.futuremarketinsights.com/reports/sample/rep-gb-859
Global Infusion Pumps Market- Key Takeaways
Rising prevalence of cancer to push forward oncology-grade infusion pumps usage in the coming years
Ambulatory pumps are poised to hold major sway in the wake of swift drug and nutrient delivery
Europe to pivot global infusion pumps market growth, capturing over 1/3rd of the revenue pie
Global infusion pumps market is likely to surpass US$ 6 Bn by 2030-end
Favorable business reimbursement policies are expected to bolster infusion pumps demand in coming years
In recent months, regulatory authorities such as the U.S Food and Drug Administration (FDA) issued emergency use authorization to increase the availability of infusion pumps and related accessories. Infusion pumps have been pivotal in administering vital medicines and parenteral nutrition to patients admitted for chronic ailments.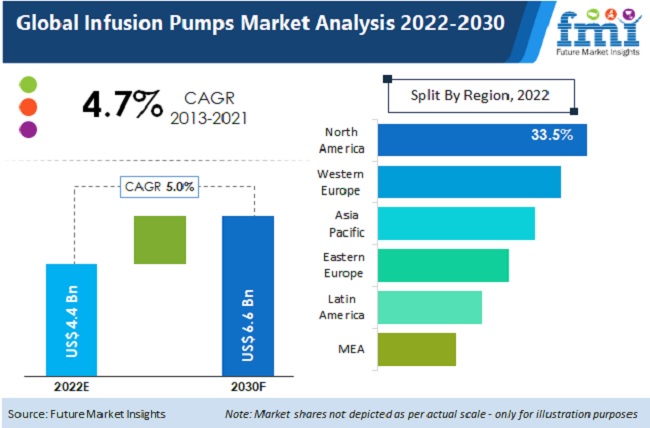 As hospitals reach a saturation point, governments are providing flexibility to infusion pump manufacturers to address supply shortages by permitting them to resume operations. This is slated to sustain the infusion pumps market demand in the short-term forecast.
"Manufacturers are concentrating on embedding smart data assimilation software within their product designs to facilitate seamless and error-free infusion procedures across healthcare settings," infers the FMI analyst.
Ask the Analyst: https://www.futuremarketinsights.com/ask-question/rep-gb-859
Global Infusion Pumps Market- Competitive Intelligence
Product launches, expansions, collaborations and other inorganic strategies are being pursued by the aforementioned players. In 2021, Terumo Corporation announced the launch of its TERUFUSION Infusion Pump Type LM Series which utilize smart cutting-edge IT solutions to deliver optimal management and prevents inadvertent excess infusion of drugs into the patient.
In 2010, Hospira Inc. partnered with Smith Medical to market and promote various infusion pumps. The companies collaborated in order to co-promote Hospira's Symbiq and Plum A+ general infusion pumps along with its Hospira MedNet safety software. The venture also promoted Smith Medical's Medfusion syringe pumps with the PharmGuard Medication Safety Software.
Key Companies Profiled:
Terumo Corporation
Medtronic Plc
Smiths Medical
MOOG Inc.
B. Braun Melsungen AG
Fresenius Kabi AG
Terumo Corporation
CareFusion Corporation
ICU Medical, Inc.
Baxter International Inc.
Request for Customization: https://www.futuremarketinsights.com/customization-available/rep-gb-859
Infusion Pumps Market by Category
By Product Type:
Syringe Pumps
Ambulatory Pumps
Volumetric Pumps

Peristaltic
Cassette/Piston

Implantable Pumps
Insulin Pumps
Enteral Pumps
PCA Pumps
Pump Accessories
By Application:
Chemotherapy/Oncology
Pediatrics/Neonatology
Analgesia
Gastroenterology
Hematology
Diabetes
By End User:
Hospitals
Ambulatory Surgical Centers
Home Care
Clinics
Others
About Future Market Insights (FMI)
Future Market Insights (ESOMAR certified market research organization and a member of Greater New York Chamber of Commerce) provides in-depth insights into governing factors elevating the demand in the market. It discloses opportunities that will favor the market growth in various segments on the basis of Source, Application, Sales Channel and End Use over the next 10-years.
Contact:
Future Market Insights, Inc.
Christiana Corporate, 200 Continental Drive,
Suite 401, Newark, Delaware – 19713, USA
T: +1-845-579-5705
For Sales Enquiries: sales@futuremarketinsights.com
Browse All Reports: https://www.futuremarketinsights.com/reports
LinkedIn| Twitter| Blogs