Cancer Biomarkers Market Report 2023: Sector is Expected to Reach $26,979.50 million by 2027 at a CAGR of 11.8%
According to a new Allied Reports study, the global cancer biomarkers market size is expected to reach $26,979.50 million by 2027, registering a CAGR of 11.8% from 2020 to 2027, The study analyzes the important strategies, drivers, competition, market dynamics, size, and important investment regions.
Key Takeaways:
The cancer biomarkers market is experiencing significant growth due to advancements in genomic and proteomic technologies, increasing prevalence of cancer, and the need for personalized medicine.
Biomarkers play a crucial role in cancer diagnosis, prognosis, treatment selection, and monitoring of therapeutic response.
The market is driven by the increasing demand for non-invasive and early detection methods for cancer, as well as the development of targeted therapies.
Liquid biopsy-based biomarkers are gaining traction as they offer minimally invasive testing and can provide real-time information about tumor progression and treatment response.
Genetic biomarkers, such as mutations or gene expression patterns, are widely used in cancer research and clinical practice to identify specific cancer types and guide treatment decisions.
Proteomic biomarkers, such as circulating tumor cells (CTCs) and proteins in blood or tissue samples, are being explored for their potential in cancer diagnosis, monitoring, and prediction of treatment response.
Request Sample Copy of the Report:
https://www.alliedmarketresearch.com/request-sample/1443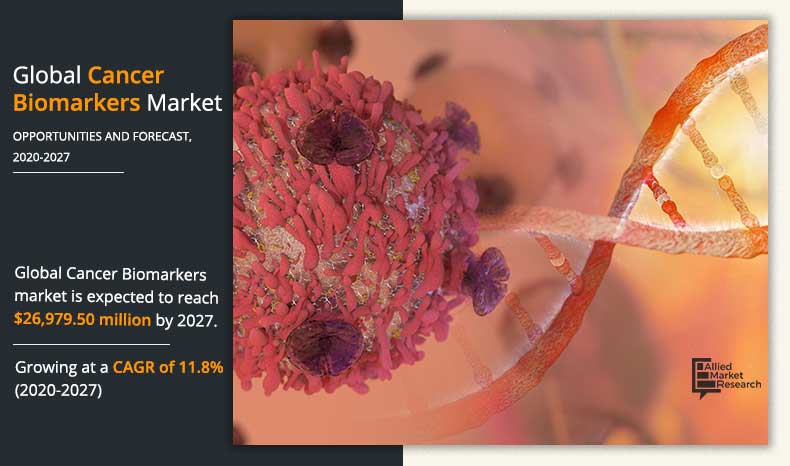 Market Drivers:
Increasing Prevalence of Cancer: The rising incidence of cancer globally is a significant driver for the market. Biomarkers play a crucial role in early detection, accurate diagnosis, and effective treatment selection, leading to improved patient outcomes.
Advancements in Genomic and Proteomic Technologies: Technological advancements in genomics and proteomics have expanded the range of detectable biomarkers and improved their sensitivity and specificity. Next-generation sequencing, mass spectrometry, and other high-throughput techniques enable the identification and validation of novel biomarkers.
Personalized Medicine: Biomarkers play a crucial role in the era of personalized medicine. They help in identifying specific molecular characteristics of tumors, enabling targeted therapies and treatment optimization based on individual patient profiles. This approach improves treatment efficacy and reduces adverse effects.
Market Segmentation:
Biomarker Type:
Genetic Biomarkers (mutations, gene expression)
Proteomic Biomarkers (proteins, circulating tumor cells)
Epigenetic Biomarkers (DNA methylation, histone modifications)
Cancer Type:
Breast Cancer
Lung Cancer
Prostate Cancer
Colorectal Cancer
Melanoma
Leukemia
Others
Application:
Diagnosis
Prognosis
Treatment Selection
Monitoring and Recurrence Detection
Technology:
Immunoassays
Next-generation Sequencing (NGS)
Polymerase Chain Reaction (PCR)
Mass Spectrometry
In Situ Hybridization (ISH)
End-user:
Hospitals
Diagnostic Laboratories
Research Institutions
Pharmaceutical Companies
Region:
North America
Europe
Asia Pacific
Latin America
Middle East and Africa
These segmentation factors allow for a more targeted analysis of the cancer biomarkers market and help in understanding specific market dynamics and trends for each segment.
Request for Customization –
https://www.alliedmarketresearch.com/request-for-customization/1443
Regional Growth Dynamics:
North America and Europe are the most lucrative markets due to increase in prevalence of various cancer cases, growth in awareness toward cancer, higher cancer biomarker testing, well-established reimbursement policies, and high disposable income. The North America cancer biomarker market generated $3,988.02 million revenue in 2019, and is estimated to garner an approximate revenue of $8,733.26 million by 2027, at an estimated CAGR of 10.1%.
Competitive Landscape:
F. Hoffmann-La Roche Ltd.
Thermo Fisher Scientific, Inc.
Illumina, Inc.
QIAGEN N.V.
Abbott Laboratories
Bio-Rad Laboratories, Inc.
Agilent Technologies, Inc.
Siemens Healthineers AG
Merck KGaA
Myriad Genetics, Inc.
Recent developments:
Liquid Biopsy Advancements: Liquid biopsy-based biomarkers have gained significant attention and investment. Advances in technologies like circulating tumor DNA (ctDNA) analysis and circulating tumor cells (CTCs) detection have improved the sensitivity and accuracy of liquid biopsies for cancer diagnosis, monitoring, and treatment response prediction.
Immune Checkpoint Inhibitor Biomarkers: Biomarkers such as PD-L1 expression and tumor mutational burden (TMB) have emerged as predictive markers for patient response to immune checkpoint inhibitor therapies. These biomarkers help in identifying patients who are more likely to benefit from immunotherapy and guide treatment decisions.
Buy this Premium Research Report:
https://www.alliedmarketresearch.com/purchase-enquiry/1443
VALUE PROPOSITIONS RELATED TO THE REPORT:
Powered with Complimentary Analyst Hours and Expert Interviews with Each Report
Comprehensive quantitative and qualitative insights at segment and sub-segment level
Covid 19 impact trends and perspective
Granular insights at global/regional/country level
Deep-rooted insights on market dynamics (drivers, restraints, opportunities) and business environment
Get an access to the library of reports at any time from any device and anywhere. For more details, follow the
https://www.alliedmarketresearch.com/library-access
Browse more latest healthcare reports:
Erythropoietin Drugs Market by Product Type (Epoetin-Alfa, Epoetin-Beta, and Darbepoetin-Alfa, Others) and Application (Hematology, Kidney Disorder, Cancer, Others): Global Opportunity Analysis and Industry Forecast, 2021-2028
Brachytherapy Market By Product Type (Seeds, Applicators and Afterloaders, Electronic Brachytherapy), By Technique (High Dose Rate (HDR), Low Dose Rate (LDR)), By Application (Gynecological Cancer, Prostate Cancer, Breast Cancer, Others), By End User (Hospitals, Specialty Clinics, Others): Global Opportunity Analysis and Industry Forecast, 2021-2031
About Us:
Allied Market Research (AMR) is a full-service market research and business-consulting wing of Allied Analytics LLP based in Portland, Oregon. Allied Market Research provides global enterprises as well as medium and small businesses with unmatched quality of "Market Research Reports" and "Business Intelligence Solutions." AMR has a targeted view to provide business insights and consulting to assist its clients to make strategic business decisions and achieve sustainable growth in their respective market domain.
Contact:
David Correa
5933 NE Win Sivers Drive
#205, Portland, OR 97220
United States
USA/Canada (Toll Free): +1-800-792-5285, +1-503-894-6022
UK: +44-845-528-1300
Hong Kong: +852-301-84916
India (Pune): +91-20-66346060
Fax: +1(855)550-5975
help@alliedmarketresearch.com
Web: https://www.alliedmarketresearch.com
Last Updated: 16-May-2023