Global Biosimilars Market Size Growing at 24.7% CAGR, Set to Reach USD 143.6 Bn By 2031, Exclusive Report
According to the report, the global biosimilars industry was estimated at $15.9 billion in 2021, and is anticipated to hit $143.6 billion by 2031, registering a CAGR of 24.7% from 2022 to 2031. The study analyzes the important strategies, drivers, competition, market dynamics, size, and important investment regions.
Key Takeaways:
The biosimilars market has been experiencing significant growth in recent years. Biosimilars are highly similar versions of approved biologic drugs, offering comparable safety, efficacy, and quality to the reference products.
The primary driving factors behind the biosimilars market growth include the expiry of patents for several biologic drugs, increasing healthcare costs, and the need for affordable treatment options.
Biosimilars provide an opportunity for cost savings and improved access to essential therapies. They can potentially reduce healthcare expenditures by offering lower-priced alternatives to expensive biologics.
Regulatory frameworks have been established in various countries to ensure the safety and efficacy of biosimilars. These frameworks include stringent comparability studies and clinical trials to demonstrate biosimilarity to the reference product.
Major therapeutic areas targeted by biosimilars include oncology, autoimmune diseases, and inflammatory disorders. Biosimilars have been developed for popular biologic drugs like monoclonal antibodies, insulin, erythropoietin, and growth hormones.
Market competition is increasing as more companies enter the biosimilars space, leading to improved affordability and choice for patients. This competition is also driving innovation and development of new biosimilar products.
Request Sample Copy of the Report:
https://www.alliedmarketresearch.com/request-sample/162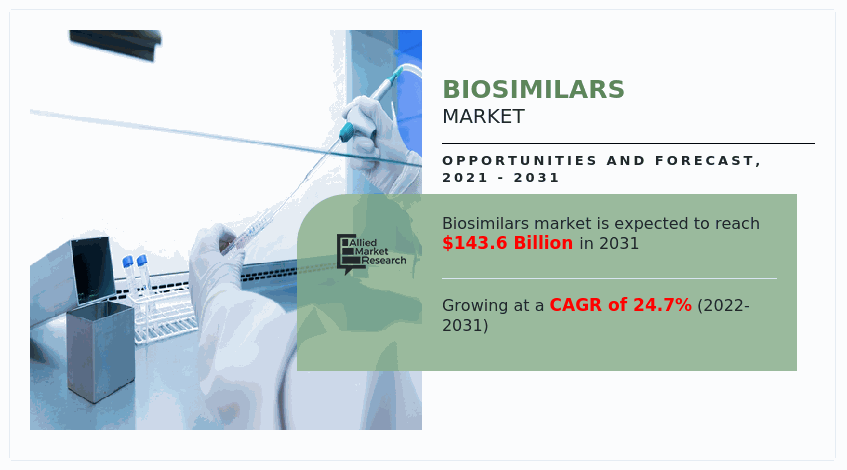 Market Drivers:
Patent Expirations: The expiration of patents for reference biologic drugs creates opportunities for biosimilar manufacturers to enter the market and offer more affordable alternatives.
Cost Savings: Biosimilars provide cost savings compared to their reference biologic drugs. As healthcare costs continue to rise, payers and healthcare providers are increasingly seeking cost-effective treatment options, driving the demand for biosimilars.
Increasing Demand for Biologics: Biologic drugs have revolutionized the treatment of various diseases, including cancer, autoimmune disorders, and chronic conditions. The increasing demand for these therapies creates a significant market opportunity for biosimilars.
Regulatory Support: Regulatory frameworks have been established in many countries to ensure the safety and efficacy of biosimilars. These frameworks provide guidelines and pathways for the development, approval, and commercialization of biosimilar products, facilitating market growth.
Market Segmentation:
By Product Type: Biosimilar products can be categorized based on the type of biologic drug they are designed to replicate. This includes monoclonal antibodies, insulin, erythropoietin, growth hormones, and others.
By Therapeutic Area: Biosimilars are developed for specific therapeutic areas or diseases. Common therapeutic areas targeted by biosimilars include oncology, autoimmune diseases (such as rheumatoid arthritis and psoriasis), inflammatory disorders (such as Crohn's disease and ulcerative colitis), and supportive care (such as anemia and growth disorders).
By Geography: The biosimilars market can be segmented by geographical regions, such as North America, Europe, Asia Pacific, Latin America, and the Middle East and Africa. Market dynamics and regulatory landscapes vary across regions, impacting the adoption and growth of biosimilars.
By Distribution Channel: Biosimilar products can be distributed through various channels, including hospital pharmacies, retail pharmacies, specialty pharmacies, and online pharmacies. The choice of distribution channel can vary based on the product and the healthcare system in a particular region.
By End User: Biosimilars can be used in different healthcare settings, such as hospitals, clinics, and home healthcare. The end-user segment can vary depending on the specific biosimilar product and its intended use.
Request for Customization –
https://www.alliedmarketresearch.com/request-for-customization/162
Competitive Landscape:
Pfizer Inc.
Novartis AG (Sandoz)
Amgen Inc.
Biocon Ltd.
Celltrion Inc.
Samsung Bioepis Co., Ltd.
Teva Pharmaceutical Industries Ltd.
Mylan N.V.
Fresenius Kabi AG
Dr. Reddy's Laboratories Ltd.
Buy this Premium Research Report:
https://www.alliedmarketresearch.com/purchase-enquiry/162
VALUE PROPOSITIONS RELATED TO THE REPORT:
Powered with Complimentary Analyst Hours and Expert Interviews with Each Report
Comprehensive quantitative and qualitative insights at segment and sub-segment level
Covid 19 impact trends and perspective
Granular insights at global/regional/country level
Deep-rooted insights on market dynamics (drivers, restraints, opportunities) and business environment
Get an access to the library of reports at any time from any device and anywhere. For more details, follow the
https://www.alliedmarketresearch.com/library-access
Browse more latest healthcare reports:
Vertebral Compression Fracture Devices Market by Product Type (Balloon Kyphoplasty Devices and Vertebroplasty Devices), Surgery (Open Spine Surgery and Minimally Invasive Spine Surgery): Global Opportunity Analysis and Industry Forecast, 2020-2030
Metabolomics Market by Product and Service (Metabolomics Instruments and Metabolomics Bioinformatics Tools & Service), Application (Biomarker Discovery, Drug Discovery, Toxicology Testing, Nutrigenomics, Functional Genomics, Personalized Medicine, and Others), and Indication (Cancer, Cardiovascular Disorders, Neurological Disorders, Inborn Errors of Metabolism, and Others): Global Opportunity Analysis and Industry Forecast, 2021–2030
About Us:
Allied Market Research (AMR) is a full-service market research and business-consulting wing of Allied Analytics LLP based in Portland, Oregon. Allied Market Research provides global enterprises as well as medium and small businesses with unmatched quality of "Market Research Reports" and "Business Intelligence Solutions." AMR has a targeted view to provide business insights and consulting to assist its clients to make strategic business decisions and achieve sustainable growth in their respective market domain.
Contact:
David Correa
5933 NE Win Sivers Drive
#205, Portland, OR 97220
United States
USA/Canada (Toll Free): +1-800-792-5285, +1-503-894-6022
UK: +44-845-528-1300
Hong Kong: +852-301-84916
India (Pune): +91-20-66346060
Fax: +1(855)550-5975
help@alliedmarketresearch.com
Web: https://www.alliedmarketresearch.com
Last Updated: 16-May-2023