Nerve Repair and Regeneration Market Trend 2023 Predicted to Surpass USD $12.3 Bn by 2030
As per the report, the global nerve repair and regeneration industry generated $6.6 billion in 2020, and is expected to reach $12.3 billion by 2030, growing at a CAGR of 6.5% from 2021 to 2030. The study analyzes the important strategies, drivers, competition, market dynamics, size, and important investment regions.
Key Takeaways:
Market Growth: The nerve repair and regeneration market has been experiencing significant growth in recent years. Advances in medical technology, increasing prevalence of nerve injuries and disorders, and growing awareness about available treatment options are driving market expansion.
Rising Incidence of Nerve Injuries: Nerve injuries are becoming more common due to various factors such as trauma, accidents, sports injuries, and medical conditions like diabetes. This has fueled the demand for effective nerve repair and regeneration solutions.
Technological Advancements: The market has witnessed notable technological advancements in nerve repair and regeneration techniques. This includes the development of innovative biomaterials, tissue engineering, stem cell therapies, and neurostimulation techniques, which provide promising avenues for nerve regeneration.
Neurostimulation Devices: Neurostimulation devices, such as spinal cord stimulators and peripheral nerve stimulators, are gaining traction in the market. These devices help in managing chronic pain and promoting nerve regeneration by delivering electrical impulses to the affected nerves.
Stem Cell Therapies: Stem cell-based therapies hold great potential for nerve repair and regeneration. Researchers are exploring the use of various stem cell sources, including embryonic stem cells, induced pluripotent stem cells (iPSCs), and adult stem cells, to promote nerve regrowth and functional recovery.
Request Sample Copy of the Report:
https://www.alliedmarketresearch.com/request-sample/299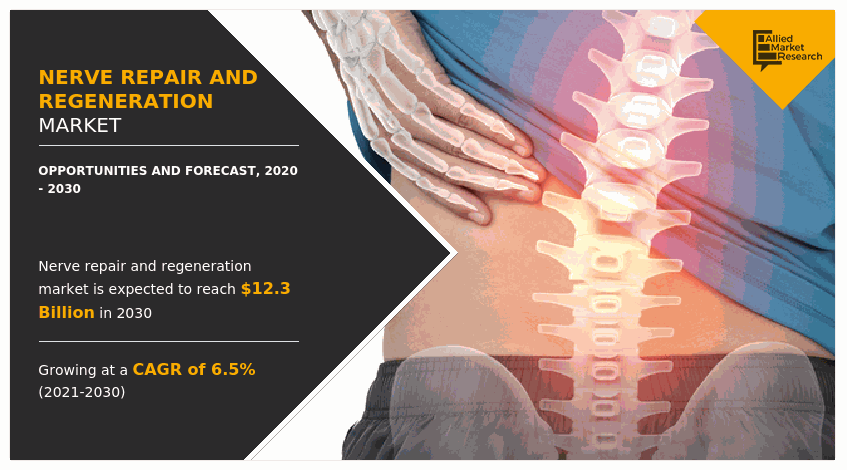 Segmentation:
By Product Type:
Biomaterials: Synthetic and natural biomaterials used for nerve regeneration, such as nerve conduits, nerve wraps, and nerve grafts.
Neurostimulation and Neuromodulation Devices: Implantable devices that deliver electrical impulses to stimulate nerve regeneration or manage chronic pain.
Cell-Based Therapies: Stem cell-based therapies, including embryonic stem cells, induced pluripotent stem cells (iPSCs), and adult stem cells.
Others: Growth factors, cytokines, gene therapy, and tissue engineering products.
By Application:
Nerve Repair: Treatment of damaged or severed nerves due to trauma, accidents, or surgical procedures.
Nerve Grafting: Replacement of a damaged nerve segment with a nerve graft.
Neuropathic Pain Management: Use of neurostimulation devices for pain relief in conditions like peripheral neuropathy.
Others: Treatment of nerve disorders such as peripheral neuropathy, diabetic neuropathy, and spinal cord injuries.
By End User:
Hospitals and Clinics
Ambulatory Surgical Centers
Research Institutes and Academic Centers
By Geography:
North America (United States, Canada)
Europe (United Kingdom, Germany, France, Italy, Spain, Rest of Europe)
Asia-Pacific (China, Japan, India, Australia, South Korea, Rest of Asia-Pacific)
Latin America (Brazil, Mexico, Rest of Latin America)
Request for Customization –
https://www.alliedmarketresearch.com/request-for-customization/299
Regional Growth Dynamics:
The global nerve repair and regeneration market across North America held the lion's share in 2020, contributing to around two-fifths of the market, due to increase in the prevalence of neurodegenerative & neurodevelopmental diseases, stroke, and traumatic brain injuries coupled with increase in adoption of advanced healthcare infrastructure. However, the market across Asia-Pacific is projected to manifest the highest CAGR of 7.5% during the forecast period, owing to rise in awareness among patient, supportive government initiatives, and presence of unmet medical needs, and advent of innovative technologies.
Competitive Landscape:
Abbott Laboratories
Integra Lifesciences Corporation
Boston scientific Inc.
Axogenic
Medtronic plc
Checkpoint Surgical
Stryker Corporation
Synovis Micro Companies Alliance
Polyganics
OrthoMed, Inc.
Recent developments:
FDA Approvals: In 2021, the U.S. Food and Drug Administration (FDA) granted approvals for certain nerve repair and regeneration products. For example, in January 2021, AxoGen received FDA clearance for its Avive Soft Tissue Membrane, used for nerve repair and protection.
Advancements in Stem Cell Therapies: Stem cell-based therapies continue to show promise in nerve repair and regeneration. Researchers have been exploring different types of stem cells, including induced pluripotent stem cells (iPSCs) and mesenchymal stem cells (MSCs), for their potential to promote nerve regeneration.
Neural Tissue Engineering: The field of neural tissue engineering has witnessed advancements in creating artificial nerve grafts and conduits. Researchers are developing biomaterials with properties that support nerve growth and regeneration, aiming to improve outcomes for patients with nerve injuries.
Buy this Premium Research Report:
https://www.alliedmarketresearch.com/purchase-enquiry/299
VALUE PROPOSITIONS RELATED TO THE REPORT:
Powered with Complimentary Analyst Hours and Expert Interviews with Each Report
Comprehensive quantitative and qualitative insights at segment and sub-segment level
Covid 19 impact trends and perspective
Granular insights at global/regional/country level
Deep-rooted insights on market dynamics (drivers, restraints, opportunities) and business environment
Get an access to the library of reports at any time from any device and anywhere. For more details, follow the
https://www.alliedmarketresearch.com/library-access
Browse more latest healthcare reports:
Body Composition Analyzers Market by Product Type (Bio-impedance, Analyzer, Dual Energy X-ray Absorptiometry Equipment, Skinfold Calipers, Air Displacement Plethysmography Equipment, and Hydrostatic Weighing Equipment) and End User (Hospitals, Fitness Clubs & Wellness Centers, and Home Users): Global Opportunity Analysis and Industry Forecast, 2021-2030.
Syringes Market by Product (General Syringes, Specialized Syringes, and Others), Usage (Reusable and Disposable Syringes), Material (Glass and Polymer), and End Use (Hospitals, Diagnostic Centers, Speciality Centers, and Others): Global Opportunity Analysis and Industry Forecast, 2020-2027.
About Us:
Allied Market Research (AMR) is a full-service market research and business-consulting wing of Allied Analytics LLP based in Portland, Oregon. Allied Market Research provides global enterprises as well as medium and small businesses with unmatched quality of "Market Research Reports" and "Business Intelligence Solutions." AMR has a targeted view to provide business insights and consulting to assist its clients to make strategic business decisions and achieve sustainable growth in their respective market domain.
Contact:
David Correa
5933 NE Win Sivers Drive
#205, Portland, OR 97220
United States
USA/Canada (Toll Free): +1-800-792-5285, +1-503-894-6022
UK: +44-845-528-1300
Hong Kong: +852-301-84916
India (Pune): +91-20-66346060
Fax: +1(855)550-5975
help@alliedmarketresearch.com
Web: https://www.alliedmarketresearch.com
Last Updated: 17-May-2023