Telepsychiatry Market 2023 : Estimated to Observe Significant Growth to Reach $41.8 Billion by 2031
The Telepsychiatry Market refers to the provision of mental health services, including assessment, diagnosis, and treatment, through remote communication technologies, such as video conferencing, phone, or messaging platforms. Telepsychiatry allows patients to access mental health services from the comfort of their homes or local health facilities, improving access to care, especially in underserved or remote areas. The market includes various telepsychiatry platforms, software, and services, including video conferencing tools, virtual care platforms, and remote monitoring devices. The market is expected to grow due to the increasing demand for mental health services, a shortage of mental health providers, and advancements in technology that enable the delivery of quality care.
A new business intelligence report released by Allied Market Research, the global Telepsychiatry Market was estimated at $6.5 billion in 2021 and is expected to hit $41.8 billion by 2031, registering a CAGR of 20.3% from 2022 to 2031. The report provides a detailed analysis of the top investment pockets, top winning strategies, drivers & opportunities, market size & estimations, competitive landscape, and evolving market trends. The market study is a helpful source of information for the frontrunners, new entrants, investors, and shareholders in crafting strategies for the future and heightening their position in the market.
𝐆𝐞𝐭 𝐋𝐚𝐭𝐞𝐬𝐭 𝐒𝐚𝐦𝐩𝐥𝐞 𝐏𝐃𝐅 𝐂𝐨𝐩𝐲 𝟐𝟎𝟐𝟑 𝐄𝐝𝐢𝐭𝐢𝐨𝐧@ https://www.alliedmarketresearch.com/request-sample/10678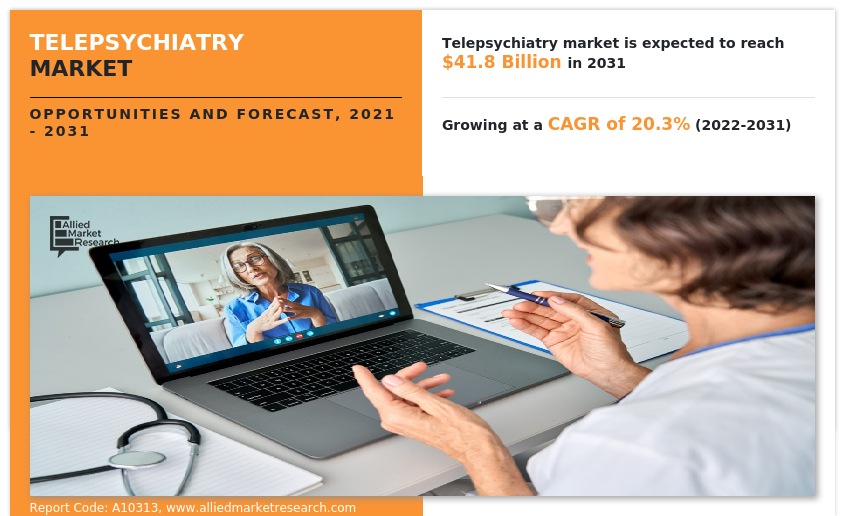 𝐖𝐡𝐚𝐭 𝐢𝐬 𝐭𝐡𝐞 𝐈𝐦𝐩𝐚𝐜𝐭 𝐨𝐟 𝐂𝐨𝐯𝐢𝐝-𝟏𝟗 𝐏𝐚𝐧𝐝𝐞𝐦𝐢𝐜 𝐨𝐧 𝐓𝐞𝐥𝐞𝐩𝐬𝐲𝐜𝐡𝐢𝐚𝐭𝐫𝐲 𝐌𝐚𝐫𝐤𝐞𝐭 𝐆𝐥𝐨𝐛𝐚𝐥𝐥𝐲?
With social distancing being the new normal, the demand for teleconsultations and digital health services was at its peak. Telehealth had emerged as a powerful weapon in the war against the pandemic. These factors impacted the global telepsychiatry market positively.
Also, many new government organizations were embracing telehealth through new policies and reimbursement guidelines, which boosted the market growth.
The global telepsychiatry market is analyzed across product type, age group, end user, and region. The report takes in an exhaustive analysis of the segments and their sub-segments with the help of tabular and graphical representation. Investors and market players can benefit from the breakdown and devise stratagems based on the highest revenue-generating and fastest-growing segments stated in the report.
𝐏𝐫𝐨𝐜𝐮𝐫𝐞 𝐂𝐨𝐦𝐩𝐥𝐞𝐭𝐞 𝐑𝐞𝐩𝐨𝐫𝐭 (𝟐𝟎𝟎 𝐏𝐚𝐠𝐞𝐬 𝐏𝐃𝐅 𝐰𝐢𝐭𝐡 𝐈𝐧𝐬𝐢𝐠𝐡𝐭𝐬, 𝐂𝐡𝐚𝐫𝐭𝐬, 𝐓𝐚𝐛𝐥𝐞𝐬, 𝐚𝐧𝐝 𝐅𝐢𝐠𝐮𝐫𝐞𝐬) @ https://www.alliedmarketresearch.com/checkout-final
The in-home solutions segment held more than two-fifths of the global telepsychiatry market revenue in 2021, and is expected to dominate by 2031. The routine solutions segment, on the other hand, would manifest the fastest CAGR of 21.0% throughout the forecast period.
The adult segment garnered more than half of the total telepsychiatry market share in 2021, and is expected to dominate by 2031. The same segment would also project the fastest CAGR of 20.7% throughout the forecast period.
The community mental health centers segment held more than two-thirds of the total telepsychiatry market revenue in 2021, and is expected to dominate by 2031. The homecare segment, simultaneously, would cite the fastest CAGR of 21.2% throughout the forecast period.
The global market across North America generated nearly half of the total telepsychiatry market in 2021, and is anticipated to retain the lion's share by 2031. The Asia-Pacific region, at the same time, would manifest the fastest CAGR of 21.4% during the forecast period. The other provinces analyzed through the report include Europe and LAMEA.
The key market players analyzed in the global telepsychiatry market report include Koninklijke Philips N.V., Medtronic, GE Healthcare, MDLive, Cerner Corporation, Siemens Healthineers, Cisco Systems, Inc, Teladoc Health Inc, American Well, and AMC Health. These market players have embraced several strategies including partnership, expansion, collaboration, joint ventures, and others to highlight their prowess in the industry. The report is helpful in formulating the business performance, product portfolio, operating segments, and developments by the top players.
𝐏𝐮𝐫𝐜𝐡𝐚𝐬𝐞 𝐈𝐧𝐪𝐮𝐢𝐫𝐲: https://www.alliedmarketresearch.com/purchase-enquiry/10678
𝐓𝐫𝐞𝐧𝐝𝐢𝐧𝐠 𝐑𝐞𝐩𝐨𝐫𝐭𝐬 𝐢𝐧 𝐇𝐞𝐚𝐥𝐭𝐡𝐜𝐚𝐫𝐞 𝐈𝐧𝐝𝐮𝐬𝐭𝐫𝐲:
Nerve Repair Biomaterials Market Share: https://www.alliedmarketresearch.com/nerve-repair-biomaterials-market-A12301
Ophthalmology Diagnostics and Surgical Devices Market Size: https://www.alliedmarketresearch.com/ophthalmology-diagnostics-and-surgical-devices-market-A12302
𝐀𝐛𝐨𝐮𝐭 𝐔𝐬:
Allied Market Research (AMR) is a full-service market research and business-consulting wing of Allied Analytics LLP based in Portland, Oregon. Allied Market Research provides global enterprises as well as medium and small businesses with unmatched quality of "Market Research Reports" and "Business Intelligence Solutions." AMR has a targeted view to provide business insights and consulting to assist its clients to make strategic business decisions and achieve sustainable growth in their respective market domain.
We are in professional corporate relations with various companies and this helps us in digging out market data that helps us generate accurate research data tables and confirms utmost accuracy in our market forecasting. Allied Market Research CEO Pawan Kumar is instrumental in inspiring and encouraging everyone associated with the company to maintain high quality of data and help clients in every way possible to achieve success. Each and every data presented in the reports published by us is extracted through primary interviews with top officials from leading companies of domain concerned. Our secondary data procurement methodology includes deep online and offline research and discussion with knowledgeable professionals and analysts in the industry.
𝐂𝐨𝐧𝐭𝐚𝐜𝐭:
David Correa
5933 NE Win Sivers Drive
205, Portland, OR 97220
United States
USA/Canada (Toll Free): +1-800-792-5285, +1-503-894-6022
UK: +44-845-528-1300
Hong Kong: +852-301-84916
India (Pune): +91-20-66346060
Fax: +1(855)550-5975
help@alliedmarketresearch.com
Last Updated: 17-May-2023