Erythropoietin Drugs Market Share will Increase at 5.7% CAGR Globally by 2028, Says AMR
As per the report published by Allied Market Research, the global Erythropoietin Drugs Market was pegged at $9.24 billion in 2020, and is estimated to reach $14.41 billion by 2028, growing at a CAGR of 5.7% from 2021 to 2028.
The study analyzes the important strategies, drivers, competition, market dynamics, size, and important investment regions.
Key Takeaways:
Market Growth: The Erythropoietin Drugs Market has experienced significant growth over the years due to the increasing prevalence of chronic kidney disease, cancer, and anemia. EPO drugs are commonly used to treat anemia associated with these conditions.
Rising Demand: The demand for Erythropoietin Drugs is driven by factors such as the aging population, growth in the number of patients with chronic diseases, and advancements in medical technology. Additionally, the increasing number of patients undergoing chemotherapy and dialysis contributes to the demand for EPO drugs.
Biosimilars: The market for Erythropoietin Drugs has witnessed the entry of biosimilar products. Biosimilars are biologic drugs that are highly similar to the reference EPO drugs in terms of quality, efficacy, and safety. The availability of biosimilars has led to increased competition and cost savings for patients.
Treatment of Anemia: EPO drugs are primarily used for the treatment of anemia. Anemia can occur due to various reasons, including chronic kidney disease, cancer, and chemotherapy. EPO drugs stimulate the production of red blood cells, thereby improving the oxygen-carrying capacity of the blood.
Routes of Administration: Erythropoietin Drugs are available in different formulations and can be administered through various routes, including intravenous (IV), subcutaneous (SC), and intramuscular (IM) injections. The choice of administration route depends on factors such as the patient's condition, treatment goals, and convenience.
Request Sample Copy of the Report:
https://www.alliedmarketresearch.com/request-sample/59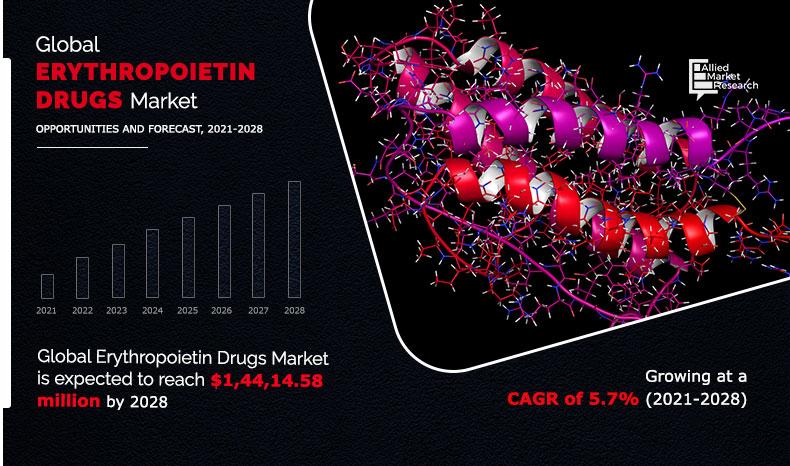 Market Drivers:
Prevalence of Chronic Kidney Disease (CKD): Chronic kidney disease is a significant driver of the Erythropoietin Drugs Market. CKD can lead to anemia due to reduced production of erythropoietin by the kidneys. EPO drugs are commonly used to stimulate red blood cell production and manage anemia in CKD patients.
Cancer-Related Anemia: Cancer and its treatment, such as chemotherapy, can often lead to anemia. Erythropoietin Drugs are prescribed to cancer patients to stimulate red blood cell production and alleviate anemia symptoms. The growing prevalence of cancer worldwide contributes to the demand for EPO drugs.
Increasing Aging Population: The global population is aging, leading to a rise in age-related diseases and conditions such as anemia. Elderly individuals are more prone to anemia due to factors like nutritional deficiencies and chronic illnesses. As the elderly population increases, the demand for EPO drugs to manage anemia is expected to rise.
Market Segmentation:
Type of Erythropoietin Drugs:
Epoetin Alfa: It is the most widely used form of EPO and is available as a recombinant human erythropoietin.
Darbepoetin Alfa: It is a modified form of erythropoietin that has an extended half-life compared to epoetin alfa.
Application:
Anemia Associated with Chronic Kidney Disease (CKD)
Cancer-Related Anemia
Anemia in HIV/AIDS
Anemia in Myelodysplastic Syndromes (MDS)
Anemia in Other Conditions
Route of Administration:
Intravenous (IV) Injection
Subcutaneous (SC) Injection
Intramuscular (IM) Injection
End User:
Hospitals and Clinics
Ambulatory Surgical Centers
Homecare Settings
Geography:
North America (United States, Canada)
Europe (United Kingdom, Germany, France, Italy, Spain, Rest of Europe)
Asia Pacific (China, Japan, India, Australia, Rest of Asia Pacific)
Latin America (Brazil, Mexico, Rest of Latin America)
Middle East & Africa
Request for Customization –
https://www.alliedmarketresearch.com/request-for-customization/59
Regional Growth Dynamics:
The global erythropoietin drugs market is analyzed across several regions such as North America, Europe, Asia-Pacific, and LAMEA. The market across North America held the largest share in 2020, accounting for more than one-third of the market. However, the market across Asia-Pacific is projected to register the highest CAGR of 7.8% from 2021 to 2028.
Competitive Landscape:
Johnson & Johnson, Amgen Inc., Roche, Hospira Inc., Biocon, LG Life Sciences Ltd., Teva Pharmaceutical Industries Ltd., Intas Pharmaceuticals, Ranbaxy Laboratories Ltd., and Celltrion, Inc.
Recent developments:
Approval of New Erythropoietin Biosimilars: Several Erythropoietin biosimilars have received regulatory approvals in various regions. For example, in the European Union, biosimilar versions of EPO, such as Retacrit, Abseamed, and Binocrit, have been approved for use.
Expansion of Erythropoietin Drug Applications: There has been ongoing research and clinical trials exploring the potential applications of Erythropoietin drugs beyond anemia associated with chronic kidney disease and cancer. These include conditions such as myelodysplastic syndromes, HIV/AIDS-related anemia, and neurodegenerative disorders.
Patent Expirations and Entry of Biosimilars: The expiration of patents for some Erythropoietin drugs has led to the entry of biosimilar versions in the market. This has increased competition and contributed to cost savings for patients.
Buy this Premium Research Report:
https://www.alliedmarketresearch.com/purchase-enquiry/59
VALUE PROPOSITIONS RELATED TO THE REPORT:
Powered with Complimentary Analyst Hours and Expert Interviews with Each Report
Comprehensive quantitative and qualitative insights at segment and sub-segment level
Covid 19 impact trends and perspective
Granular insights at global/regional/country level
Deep-rooted insights on market dynamics (drivers, restraints, opportunities) and business environment
Get an access to the library of reports at any time from any device and anywhere. For more details, follow the
https://www.alliedmarketresearch.com/library-access
About Us:
Allied Market Research (AMR) is a full-service market research and business-consulting wing of Allied Analytics LLP based in Portland, Oregon. Allied Market Research provides global enterprises as well as medium and small businesses with unmatched quality of "Market Research Reports" and "Business Intelligence Solutions." AMR has a targeted view to provide business insights and consulting to assist its clients to make strategic business decisions and achieve sustainable growth in their respective market domain.
Contact:
David Correa
5933 NE Win Sivers Drive
#205, Portland, OR 97220
United States
USA/Canada (Toll Free): +1-800-792-5285, +1-503-894-6022
UK: +44-845-528-1300
Hong Kong: +852-301-84916
India (Pune): +91-20-66346060
Fax: +1(855)550-5975
help@alliedmarketresearch.com
Web: https://www.alliedmarketresearch.com
Last Updated: 24-May-2023