RNA Based Therapeutic Market Update 2023: Projected to Cross Market Value of USD 25.12 Billion by 2030
According to the report, the global RNA based therapeutics industry was estimated at $4.93 billion in 2021, and is anticipated to hit $25.12 billion by 2030, registering a CAGR of 17.6% from 2021 to 2030. The study analyzes the important strategies, drivers, competition, market dynamics, size, and important investment regions.
Key Takeaways:
Growing Market: The RNA-based therapeutics market has experienced significant growth in recent years and is expected to continue expanding. Advances in RNA technology, particularly in the field of RNA interference (RNAi) and messenger RNA (mRNA), have fueled this growth.
RNA Interference (RNAi): RNAi is a process by which small interfering RNA (siRNA) molecules can target and silence specific genes, inhibiting the production of disease-causing proteins. RNAi-based therapeutics have shown promise in treating various diseases, including cancer, genetic disorders, and viral infections.
Messenger RNA (mRNA): mRNA-based therapeutics work by delivering synthetic mRNA molecules into cells, instructing them to produce therapeutic proteins. mRNA vaccines, such as the mRNA COVID-19 vaccines developed by Pfizer-BioNTech and Moderna, have demonstrated the potential of this technology.
COVID-19 Pandemic Acceleration: The COVID-19 pandemic has played a significant role in accelerating the development and adoption of RNA-based therapeutics. The success of mRNA vaccines against the SARS-CoV-2 virus has boosted confidence in the technology and opened doors for its application in other diseases.
Request Sample Copy of the Report:
https://www.alliedmarketresearch.com/request-sample/546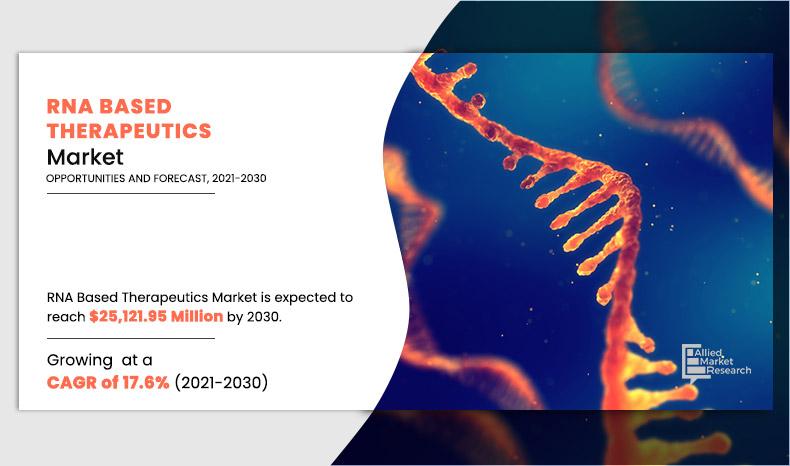 Market Drivers:
Advancements in RNA Technology: Significant advancements in RNA technology, such as improved delivery systems, better understanding of RNA biology, and enhanced manufacturing processes, have contributed to the development of more effective RNA-based therapeutics. These advancements have expanded the possibilities for targeting a wide range of diseases.
Potential for Precision Medicine: RNA-based therapeutics offer the potential for personalized and precision medicine approaches. The ability to target specific disease-causing genes or proteins allows for tailored treatments based on individual patient characteristics, increasing the efficacy and safety of therapies.
Rising Prevalence of Chronic and Genetic Diseases: The increasing prevalence of chronic diseases, including cancer, cardiovascular disorders, and neurological conditions, as well as genetic disorders, is driving the demand for innovative treatment options. RNA-based therapeutics present a promising avenue for addressing these unmet medical needs.
Market Segmentation:
Product Type:
RNA Interference (RNAi) Therapeutics: This segment includes RNAi-based drugs that use small interfering RNA (siRNA) molecules to target and silence specific disease-causing genes.
Messenger RNA (mRNA) Therapeutics: This segment includes mRNA-based drugs that deliver synthetic mRNA molecules to instruct cells to produce therapeutic proteins.
Therapeutic Application:
Oncology: RNA-based therapeutics have shown promise in the treatment of various types of cancer by targeting specific oncogenes or inhibiting tumor growth pathways.
Infectious Diseases: RNA-based therapeutics can be used to combat viral infections by targeting viral genes or interfering with the replication process.
Genetic Disorders: RNA-based therapeutics hold potential for treating genetic disorders by targeting and correcting disease-causing genetic mutations.
Cardiovascular Disorders: RNA-based therapeutics may be employed to modulate gene expression and address cardiovascular diseases, such as high cholesterol or heart failure.
Neurological Disorders: RNA-based therapies can target specific genes involved in neurological disorders, including neurodegenerative diseases like Alzheimer's and Parkinson's.
Route of Administration:
Systemic Delivery: Therapeutics administered systemically, such as intravenous (IV) infusion, allow the RNA-based drugs to circulate throughout the body.
Local Delivery: Some RNA-based therapeutics may be delivered directly to a specific target site or organ, such as intratumoral injections for cancer treatment.
Geography:
The market can also be segmented based on geographic regions, such as North America, Europe, Asia-Pacific, and Rest of the World, as each region may have variations in regulatory frameworks, healthcare infrastructure, and market dynamics.
Request for Customization –
https://www.alliedmarketresearch.com/request-for-customization/546
Regional Growth Dynamics:
By region, the market across North America dominated in 2020, garnering more than two-fifths the global RNA based therapeutics market. High expenditure on R&D, presence of major players & their product availability, and well-established healthcare infrastructure in the region propel the market growth. Simultaneously, the Asia-Pacific region is also expected to cite the fastest CAGR of 18.9% throughout the forecast period. This is attributed to improvements in R&D facilities, available disposable income, and rapidly developing economic conditions.
Competitive Landscape:
Alnylam Pharmaceuticals
Moderna Therapeutics
BioNTech SE
Arrowhead Pharmaceuticals
Ionis Pharmaceuticals
Translate Bio
Regulus Therapeutics
Dicerna Pharmaceuticals
Arbutus Biopharma
Quark Pharmaceuticals
Buy this Premium Research Report:
https://www.alliedmarketresearch.com/purchase-enquiry/546
VALUE PROPOSITIONS RELATED TO THE REPORT:
Powered with Complimentary Analyst Hours and Expert Interviews with Each Report
Comprehensive quantitative and qualitative insights at segment and sub-segment level
Covid 19 impact trends and perspective
Granular insights at global/regional/country level
Deep-rooted insights on market dynamics (drivers, restraints, opportunities) and business environment
Get an access to the library of reports at any time from any device and anywhere. For more details, follow the
https://www.alliedmarketresearch.com/library-access
Browse more latest healthcare reports:
Ophthalmic Devices Market by Product Function [Surgical Devices (Refractive Error Surgery Devices, Glaucoma Surgery Devices, Cataract Surgery Devices, and Vitreoretinal Surgery Devices) Ophthalmic Diagnostic Devices (Refractors, Corneal Topography Systems, Retinal Ultrasound Systems, Fundus Camera, Ophthalmoscopes, OCT, Perimeters, Slit Lamps, and Tonometer), and Vision Care Devices (Contact Lenses and Spectacles)]: Global Opportunity Analysis and Industry Forecast, 2020-2027
Oncology Information Systems Market by Product & Services (Software and Service), Application (Radiation Oncology, Medical Oncology, and Surgical Oncology), and End User (Hospital & Oncology Clinic and Research Center): Global Opportunity Analysis and Industry Forecast, 2021-2030
About Us:
Allied Market Research (AMR) is a full-service market research and business-consulting wing of Allied Analytics LLP based in Portland, Oregon. Allied Market Research provides global enterprises as well as medium and small businesses with unmatched quality of "Market Research Reports" and "Business Intelligence Solutions." AMR has a targeted view to provide business insights and consulting to assist its clients to make strategic business decisions and achieve sustainable growth in their respective market domain.
Contact:
David Correa
5933 NE Win Sivers Drive
#205, Portland, OR 97220
United States
USA/Canada (Toll Free): +1-800-792-5285, +1-503-894-6022
UK: +44-845-528-1300
Hong Kong: +852-301-84916
India (Pune): +91-20-66346060
Fax: +1(855)550-5975
help@alliedmarketresearch.com
Web: https://www.alliedmarketresearch.com
Last Updated: 24-May-2023