Liver Disease Treatment Market Report 2023: Share Will Increase at 5.7% CAGR Globally by 2030 | By AMR
As per the report, the global liver disease treatment industry generated $20.67 billion in 2020, and is projected to garner $36.45 billion by 2030, growing at a CAGR of 5.7% from 2021 to 2030. The study analyzes the important strategies, drivers, competition, market dynamics, size, and important investment regions.
Key Takeaways:
Growing prevalence of liver diseases: Liver diseases, including hepatitis, alcoholic liver disease, non-alcoholic fatty liver disease (NAFLD), and liver cancer, continue to be a significant global health concern. The increasing prevalence of these conditions is driving the demand for liver disease treatments.
Advancements in treatment options: The liver disease treatment market has witnessed notable advancements in therapeutic options. New drugs, including antiviral medications for hepatitis, immunosuppressive agents for autoimmune liver diseases, and targeted therapies for liver cancer, have improved patient outcomes and expanded the treatment landscape.
Rising demand for liver transplantation: In cases where liver disease reaches an advanced stage or fails to respond to medical therapy, liver transplantation becomes the treatment of choice. The demand for liver transplantation has been steadily increasing, leading to a need for efficient organ procurement, transplant procedures, and post-transplant care.
Increasing focus on non-alcoholic fatty liver disease (NAFLD): NAFLD has emerged as a major liver disease worldwide, closely associated with obesity, diabetes, and metabolic syndrome. Given the rising prevalence of NAFLD, pharmaceutical companies and researchers are investing in developing novel therapies and diagnostic tools specifically targeting this condition.
Get Sample Report at: https://www.alliedmarketresearch.com/request-sample/388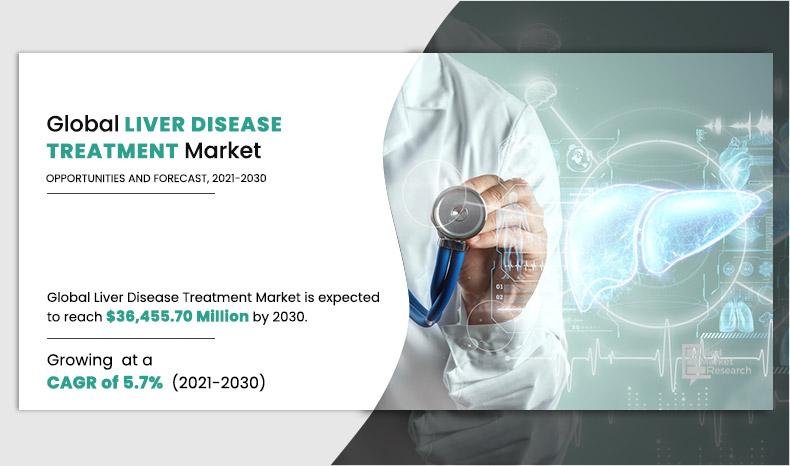 Market Drivers:
Increasing prevalence of liver diseases: Liver diseases such as hepatitis, cirrhosis, liver cancer, and non-alcoholic fatty liver disease (NAFLD) are becoming more prevalent globally. Factors such as alcohol abuse, viral infections (such as hepatitis B and C), obesity, diabetes, and an unhealthy lifestyle contribute to the rising incidence of liver diseases. The growing patient population drives the demand for effective treatment options.
Technological advancements in diagnostics and treatment: Advances in medical technology have improved the diagnosis and treatment of liver diseases. Innovative imaging techniques, non-invasive diagnostic tools (e.g., elastography), and molecular testing methods have enhanced the accuracy of disease detection and staging. Additionally, advancements in surgical techniques, such as minimally invasive procedures and robotic-assisted surgeries, have improved patient outcomes and reduced post-operative complications.
Market Segmentation:
By Disease Type:
Hepatitis: Including hepatitis A, hepatitis B, hepatitis C, and other viral hepatitis.
Non-Alcoholic Fatty Liver Disease (NAFLD): Including non-alcoholic steatohepatitis (NASH).
Alcoholic Liver Disease: Caused by excessive alcohol consumption.
Liver Cirrhosis: Resulting from long-term liver damage and scarring.
Liver Cancer: Primary liver cancer or hepatocellular carcinoma (HCC).
By Treatment Type:
Medications: Antiviral drugs, immunosuppressive agents, chemotherapy, targeted therapy, and supportive medications.
Surgical Interventions: Liver transplantation, liver resection, tumor ablation, and transarterial chemoembolization (TACE).
Interventional Procedures: Endoscopic retrograde cholangiopancreatography (ERCP), percutaneous transhepatic cholangiography (PTC), and liver biopsy.
Lifestyle Modifications: Dietary changes, weight management, alcohol cessation, and exercise.
By End User:
Hospitals and Clinics
Specialty Centers (Liver Transplant Centers, Hepatology Centers)
Ambulatory Surgical Centers
Research Institutes and Academic Centers
By Geography:
North America (United States, Canada)
Europe (United Kingdom, Germany, France, Italy, Spain, and Rest of Europe)
Asia Pacific (China, Japan, India, Australia, and Rest of Asia Pacific)
Latin America (Brazil, Mexico, and Rest of Latin America)
Middle East and Africa
Request for Customization –
https://www.alliedmarketresearch.com/request-for-customization/388
Regional Growth Dynamics:
The market across North America held the largest share in 2020, accounting for more than two-fifths of the market, due to rise in geriatric population, adoption of advanced technologies, robust R&D infrastructure for life science researchers, and improved liver disease treatment. However, the global liver disease treatment market across Asia-Pacific is expected to manifest the highest CAGR of 7.8% during the forecast period, owing to rise in liver diseases, increase in public-private investments, and government support for pharmaceutical and biotechnology R&D.
Competitive Landscape:
Gilead Sciences Inc.
F. Hoffmann-La Roche Ltd.
Bristol-Myers Squibb Company
AbbVie Inc.
Johnson & Johnson
Novartis International AG
Merck & Co., Inc.
Pfizer Inc.
AstraZeneca plc
Eli Lilly and Company
Buy this Premium Research Report:
https://www.alliedmarketresearch.com/purchase-enquiry/388
VALUE PROPOSITIONS RELATED TO THE REPORT:
Powered with Complimentary Analyst Hours and Expert Interviews with Each Report
Comprehensive quantitative and qualitative insights at segment and sub-segment level
Covid 19 impact trends and perspective
Granular insights at global/regional/country level
Deep-rooted insights on market dynamics (drivers, restraints, opportunities) and business environment
Get an access to the library of reports at any time from any device and anywhere. For more details, follow the
https://www.alliedmarketresearch.com/library-access
About Us:
Allied Market Research (AMR) is a full-service market research and business-consulting wing of Allied Analytics LLP based in Portland, Oregon. Allied Market Research provides global enterprises as well as medium and small businesses with unmatched quality of "Market Research Reports" and "Business Intelligence Solutions." AMR has a targeted view to provide business insights and consulting to assist its clients to make strategic business decisions and achieve sustainable growth in their respective market domain.
Last Updated: 25-May-2023