Medical Implant Market 2023 Trends: Revenue to Cross USD 147.46 Billion by 2027
According to the report published by Allied Market Research, the medical implant industry estimated $85.38 billion in 2019, and is estimated to generate $147.46 billion by 2027, manifesting a CAGR of 7.2% from 2020 to 2027.
The study analyzes the important strategies, drivers, competition, market dynamics, size, and important investment regions.
Key Takeaways:
Growing Market: The medical implant market has been experiencing significant growth in recent years. Advancements in medical technology, an aging population, and an increasing prevalence of chronic diseases have contributed to the expansion of the market.
Diverse Range of Implants: Medical implants cover a wide range of products, including orthopedic implants (such as hip and knee replacements), cardiac implants (such as pacemakers and defibrillators), dental implants, breast implants, neurological implants, and more. Each segment has its own set of manufacturers, technologies, and market dynamics.
Increasing Demand for Orthopedic Implants: Orthopedic implants, particularly joint replacements, have witnessed substantial demand due to factors like the rise in musculoskeletal disorders, sports injuries, and the desire for an active lifestyle among the aging population. Technological advancements, such as the use of 3D printing and biocompatible materials, have further enhanced the effectiveness and durability of orthopedic implants.
Technological Advancements: The medical implant market has benefited from significant technological advancements. Innovations include the development of smart implants, such as those equipped with sensors and wireless connectivity for real-time monitoring and data collection. Additionally, the use of biocompatible materials and tissue engineering techniques has improved implant integration and reduced the risk of rejection.
Request Sample Report at: https://www.alliedmarketresearch.com/request-sample/71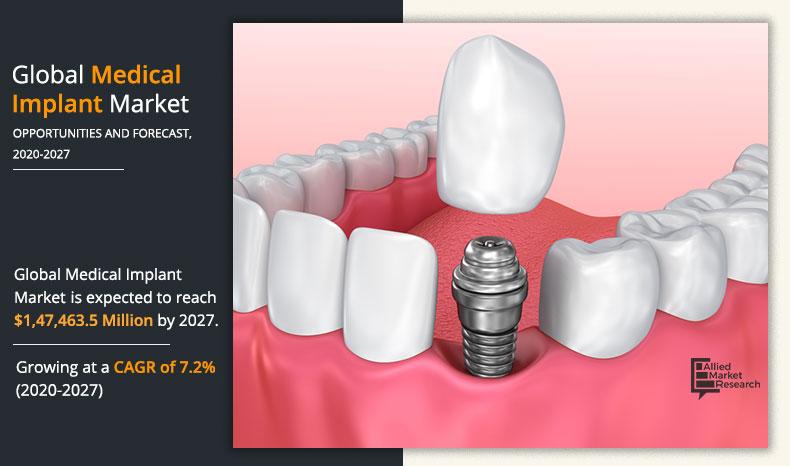 Market Drivers:
Increasing Prevalence of Chronic Diseases: The rising incidence of chronic diseases, such as cardiovascular diseases, orthopedic disorders, and dental problems, has fueled the demand for medical implants. Implants are often used to treat or manage these conditions, improving patients' quality of life and longevity.
Aging Population: The global population is aging rapidly, leading to a higher demand for medical implants. Older individuals are more susceptible to chronic diseases and age-related conditions that may require implantable devices for treatment, such as joint replacements, pacemakers, and hearing implants.
Technological Advancements: Continuous advancements in medical technology have played a crucial role in the growth of the medical implant market. Innovations like minimally invasive surgical techniques, 3D printing, biocompatible materials, and smart implants have improved the effectiveness, durability, and patient outcomes associated with medical implants.
Market Segmentation:
Product Type: Medical implants can be categorized based on the type of implant. This includes orthopedic implants (such as joint replacements, spinal implants), cardiac implants (pacemakers, defibrillators), dental implants, breast implants, neurological implants, and others.
Material Type: Implants can also be segmented based on the material used in their construction. Examples include metallic implants (such as titanium and stainless steel), ceramic implants, polymer implants, and biologic implants (using tissues or cells).
Application: This segmentation focuses on the medical field or area where the implant is used. For instance, orthopedic implants for joint replacements, dental implants for dental restoration, cardiovascular implants for cardiac disorders, and neurostimulation implants for neurological conditions.
End User: The market can be segmented based on the end users of medical implants. This may include hospitals, specialty clinics, ambulatory surgical centers, and research institutions.
Geography: The medical implant market can also be segmented based on geographic regions, such as North America, Europe, Asia Pacific, Latin America, and the Middle East and Africa. Each region may have different market dynamics, regulations, and market players.
Technology: Another approach is to segment the market based on the technology or innovation associated with the implants. This could include segments like 3D-printed implants, smart implants, bioresorbable implants, and nanotechnology-based implants.
Request for Customization –
https://www.alliedmarketresearch.com/request-for-customization/71
Regional Growth Dynamics:
Based on region, the market is analyzed across Asia-Pacific, Europe, LAMEA, and North America. The market across North America held lion's share in 2019, with more than two-fifths of the global medical implant market. Furthermore, the region would lead the trail throughout the forecast period. At the same time, Asia-Pacific is expected to register the fastest CAGR of 8.8% from 2020 to 2027.
Competitive Landscape:
Leading market players in the global medical implant market include NuVasive, Inc., Integra LifeSciences, Holding Corporation, Institut Straumann AG, Conmed Corporation, Medtronic Plc., Johnson and Johnson, Boston Scientific Corporation, Biotronik , Globus Medical, Inc., and LivaNova PLC .
Recent developments:
Advancements in 3D Printing: 3D printing technology has gained significant traction in the medical implant market. It allows for the customization and production of patient-specific implants with enhanced accuracy and efficiency. Recent developments include the use of 3D-printed titanium implants for complex orthopedic surgeries and the exploration of bioprinting techniques for tissue and organ regeneration.
Smart Implants: The integration of smart technology into medical implants is a recent development. Smart implants are equipped with sensors, wireless connectivity, and data analysis capabilities, enabling real-time monitoring of patients' health and implant performance. This technology has the potential to revolutionize patient care and improve outcomes.
Buy this Premium Research Report:
https://www.alliedmarketresearch.com/purchase-enquiry/71
VALUE PROPOSITIONS RELATED TO THE REPORT:
Powered with Complimentary Analyst Hours and Expert Interviews with Each Report
Comprehensive quantitative and qualitative insights at segment and sub-segment level
Covid 19 impact trends and perspective
Granular insights at global/regional/country level
Deep-rooted insights on market dynamics (drivers, restraints, opportunities) and business environment
Get an access to the library of reports at any time from any device and anywhere. For more details, follow the
https://www.alliedmarketresearch.com/library-access
Browse more latest healthcare reports:
Ophthalmic Devices Market by Product Function [Surgical Devices (Refractive Error Surgery Devices, Glaucoma Surgery Devices, Cataract Surgery Devices, and Vitreoretinal Surgery Devices) Ophthalmic Diagnostic Devices (Refractors, Corneal Topography Systems, Retinal Ultrasound Systems, Fundus Camera, Ophthalmoscopes, OCT, Perimeters, Slit Lamps, and Tonometer), and Vision Care Devices (Contact Lenses and Spectacles)]: Global Opportunity Analysis and Industry Forecast, 2020-2027
Oncology Information Systems Market by Product & Services (Software and Service), Application (Radiation Oncology, Medical Oncology, and Surgical Oncology), and End User (Hospital & Oncology Clinic and Research Center): Global Opportunity Analysis and Industry Forecast, 2021-2030
About Us:
Allied Market Research (AMR) is a full-service market research and business-consulting wing of Allied Analytics LLP based in Portland, Oregon. Allied Market Research provides global enterprises as well as medium and small businesses with unmatched quality of "Market Research Reports" and "Business Intelligence Solutions." AMR has a targeted view to provide business insights and consulting to assist its clients to make strategic business decisions and achieve sustainable growth in their respective market domain.
Last Updated: 25-May-2023