Dental Tourism Market is Projected to Grow Expeditiously : to Reach USD 21.5 Billion by 2031, Claims AMR
The global dental tourism market size was valued at $6.2 billion in 2021, and is projected to reach $21.5 billion by 2031, growing at a CAGR of 13.9% from 2022 to 2031.
CAGR: 13.9 %
Current Market Size: USD 6.2 Billion
Forecast Growing Region: APAC
Largest Market: North America
Projection Time: 2021- 2031
Base Year: 2021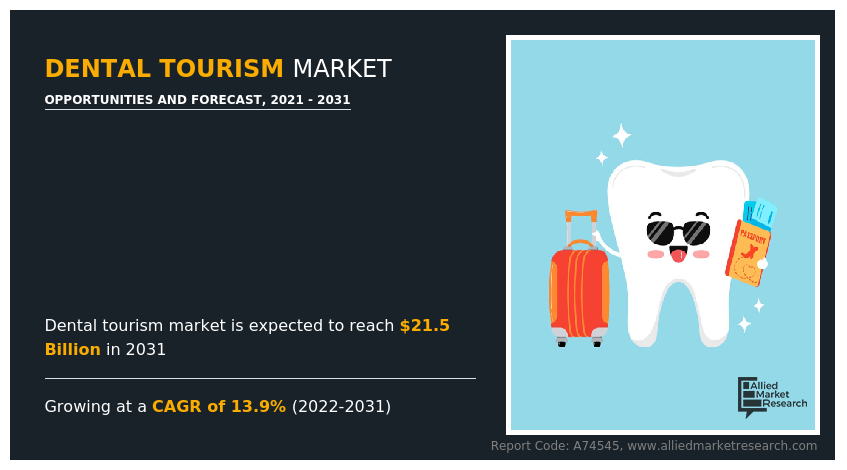 Our Market Research Solution Provides You Answer to Below Mentioned Question:
Which are the driving factors responsible for the growth of market?
Which are the roadblock factors of this market?
What are the new opportunities, by which market will grow in coming years?
What are the trends of this market?
Which are main factors responsible for new product launch?
How big is the global & regional market in terms of revenue, sales and production?
How far will the market grow in forecast period in terms of revenue, sales and production?
Which region is dominating the global market and what are the market shares of each region in the overall market in 2022?
How will each segment grow over the forecast period and how much revenue will these segments account for in 2030?
Which region has more opportunities?
Download Report Sample PDF Here – https://www.alliedmarketresearch.com/request-sample/75029
Dental Tourism Market Trends:
Dental tourism is increasingly popular due to lower costs and high-quality services.
Patients save money by traveling to countries with lower labor and operational costs.
Dental tourism destinations offer advanced treatments and state-of-the-art facilities.
Comprehensive packages combine dental treatments with accommodations and local tourism activities.
Quality assurance measures and internationally trained professionals ensure patient satisfaction.
Emerging destinations are expanding the choices for dental tourism.
Some dental insurance providers offer coverage for treatments obtained abroad.
Financing options and payment plans make dental treatments more affordable for patients.
Key Findings of the Study
By service, the dental implants sub-segment emerged as the global leader in 2021 and dental cosmetics sub-segment is anticipated to be the fastest growing sub-segment during the dental tourism market forecast period.
By provider, the dental clinics sub-segment accounted for a height dental tourism market share in 2021 and is predicted to show the fastest growth in the upcoming years.
By region, the Asia-Pacific market registered the highest dental tourism market share in 2021 and is projected to maintain the position during the forecast period.
Procure Complete Report (270+ Pages PDF with Insights, Charts, Tables, and Figures) @ https://www.alliedmarketresearch.com/dental-tourism-market/purchase-options
Key Benefits For Stakeholders
This report provides a quantitative analysis of the market segments, current trends, estimations, and dynamics of the dental tourism market analysis from 2021 to 2031 to identify the prevailing dental tourism market opportunities.
The market research is offered along with information related to key drivers, restraints, and opportunities.
Porter's five forces analysis highlights the potency of buyers and suppliers to enable stakeholders make profit-oriented business decisions and strengthen their supplier-buyer network.
In-depth analysis of the dental tourism market segmentation assists to determine the prevailing market opportunities.
Major countries in each region are mapped according to their revenue contribution to the global market.
Market player positioning facilitates benchmarking and provides a clear understanding of the present position of the market players.
The report includes the analysis of the regional as well as global dental tourism market trends, key players, market segments, application areas, and market growth strategies.
𝐃𝐨 𝐈𝐧𝐪𝐮𝐢𝐫𝐲 𝐁𝐞𝐟𝐨𝐫𝐞 𝐁𝐮𝐲𝐢𝐧𝐠 https://www.alliedmarketresearch.com/purchase-enquiry/75029
Key Dental Tourism Market Players-
Franco-Vietnamese Hospital
Apollo Hospitals Enterprise Ltd.
Fortis Healthcare
Clove Dental
Medlife Group
Raffles Medical Group
Oris Dental Centre
Dubai Dental Hospital
Imperial Dental Specialist Center
Liberty Dental Clinic
Other Top Selling Reports in Life Science Domain-
Hyperhidrosis Treatment Market https://www.alliedmarketresearch.com/hyperhidrosis-treatment-market-A17523
Softgel Capsules Market https://www.alliedmarketresearch.com/softgel-capsules-market-A16306
Fatty Bases For Suppositories Market https://www.alliedmarketresearch.com/fatty-bases-for-suppositories-market-A31722
Last Updated: 29-May-2023