Analgesics Market estimated value of around USD 50.7 Bn growth of 6.6% CAGR from 2023 to 2030
According to the report, the global analgesics industry was estimated at $26.7 billion in 2020, and is anticipated to hit $50.7 billion by 2030, registering a CAGR of 6.6% from 2021 to 2030. The study analyzes the important strategies, drivers, competition, market dynamics, size, and important investment regions.
Key Takeaways:
Market Growth: The analgesics market has been experiencing steady growth in recent years. Factors such as the increasing prevalence of chronic pain conditions, rising geriatric population, and the growing demand for over-the-counter (OTC) pain relievers are driving market expansion.
Opioids Dominance: Opioids have traditionally been the most commonly prescribed and used analgesics for severe pain management. However, concerns over opioid addiction and abuse have led to increased scrutiny and regulatory measures, resulting in a shift towards alternative pain management options.
Nonsteroidal Anti-inflammatory Drugs (NSAIDs): NSAIDs are a widely used class of analgesics that provide pain relief and reduce inflammation. They are available both as prescription drugs and OTC medications. NSAIDs such as ibuprofen, aspirin, and naproxen sodium are commonly used for various conditions, including musculoskeletal pain, headaches, and menstrual pain.
Over-the-Counter (OTC) Analgesics: The availability of OTC analgesics without a prescription has contributed significantly to the market growth. Common OTC analgesics include acetaminophen (paracetamol) and NSAIDs. These products offer convenience and ease of access for consumers seeking relief from mild to moderate pain.
Topical Analgesics: Topical analgesics, including creams, gels, patches, and sprays, have gained popularity as an alternative to oral medications. They provide localized pain relief, particularly for musculoskeletal conditions like arthritis and sports injuries. Topical analgesics often contain ingredients like menthol, capsaicin, or salicylates.
Download Sample PDF at: https://www.alliedmarketresearch.com/request-sample/1254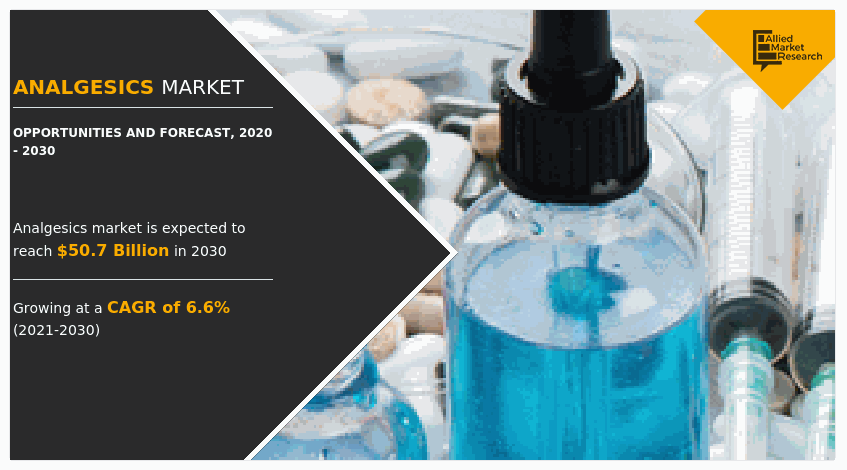 Market Drivers:
Increasing Prevalence of Chronic Pain: Chronic pain conditions, such as arthritis, lower back pain, neuropathic pain, and cancer-related pain, have become more prevalent globally. The aging population, sedentary lifestyles, and rising incidence of chronic diseases contribute to the higher demand for analgesics.
Growing Geriatric Population: The global aging population is a significant driver of the analgesics market. Older adults often experience higher rates of chronic pain due to age-related conditions like osteoarthritis and degenerative disc disease. The elderly segment requires effective pain management, leading to increased consumption of analgesic medications.
Market Segmentation:
Product Type:
Opioids: This segment includes strong pain relievers such as morphine, oxycodone, and hydrocodone.
Nonsteroidal Anti-inflammatory Drugs (NSAIDs): This segment comprises medications like ibuprofen, naproxen sodium, and aspirin, which provide pain relief and reduce inflammation.
Acetaminophen (Paracetamol): This segment includes analgesics that primarily relieve pain and reduce fever but have limited anti-inflammatory effects.
Others: This segment encompasses other types of analgesics, such as muscle relaxants and antidepressants used for pain management.
Route of Administration:
Oral: This segment includes analgesics taken by mouth, such as tablets, capsules, or liquids.
Topical: This segment comprises analgesics applied directly to the skin, including creams, gels, patches, and sprays.
Parenteral: This segment involves analgesics administered through injections or intravenous infusion.
Distribution Channel:
Over-the-Counter (OTC): This segment includes analgesics available without a prescription directly to consumers in pharmacies, drugstores, supermarkets, and online platforms.
Prescription-Based: This segment comprises analgesics that require a prescription from a healthcare professional and are dispensed by pharmacies or hospitals.
End User:
Hospitals and Clinics: This segment includes analgesics used in healthcare facilities for managing pain in patients undergoing surgeries, treatments, or other medical procedures.
Homecare Settings: This segment comprises analgesics used by patients for self-administration at home, including OTC products.
Geography:
The analgesics market can be segmented by region, including North America, Europe, Asia-Pacific, Latin America, and the Middle East and Africa, as the market dynamics, regulatory environment, and consumer preferences can vary across different regions.
Request for Customization –
https://www.alliedmarketresearch.com/request-for-customization/1254
Regional Growth Dynamics:
By region, the market across North America had the lion's share in 2020, generating nearly one-third of the global analgesics market, owing to increase in demand for non-opioids drugs, presence of key players, and development in R&D activities in the healthcare sector in the province. The Asia-Pacific region, on the other hand, is projected to portray the fastest CAGR of 7.3% by 2030. This is due to rise in awareness about the use of analgesic drugs, growth in healthcare expenditures, and surge in adoption of analgesic products.
Competitive Landscape
Johnson & Johnson
Pfizer Inc.
GlaxoSmithKline plc
Novartis AG
Bayer AG
Teva Pharmaceutical Industries Ltd.
Sanofi S.A.
Eli Lilly and Company
Endo International plc
AstraZeneca plc
Recent developments:
Opioid Crisis and Regulatory Actions: The opioid crisis continues to be a significant concern globally. Governments and regulatory bodies are implementing stricter regulations to address opioid addiction and abuse. This has led to increased scrutiny on prescribing practices, development of abuse-deterrent formulations, and a push towards alternative pain management strategies.
Rising Focus on Non-Opioid Alternatives: Given the concerns surrounding opioids, there is a growing emphasis on non-opioid analgesics and alternative pain management approaches. Pharmaceutical companies are investing in the development of novel non-opioid analgesics and exploring therapies such as nonsteroidal anti-inflammatory drugs (NSAIDs), topical analgesics, cannabinoids, and non-pharmacological interventions.
Buy this Premium Research Report:
https://www.alliedmarketresearch.com/purchase-enquiry/1254
VALUE PROPOSITIONS RELATED TO THE REPORT:
Powered with Complimentary Analyst Hours and Expert Interviews with Each Report
Comprehensive quantitative and qualitative insights at segment and sub-segment level
Covid 19 impact trends and perspective
Granular insights at global/regional/country level
Deep-rooted insights on market dynamics (drivers, restraints, opportunities) and business environment
Blanket coverage on competitive landscape
Winning imperatives
Exhaustive coverage on 'Strategic Developments' registered by leading players of the market
CUSTOMIZATION OPTIONS:
Distributor Landscape Assessment
Pricing Intelligence
Customer Base Assessment
Investment & Initiatives Analysis
'Business Profile' of Key Players
About Us:
Allied Market Research (AMR) is a full-service market research and business-consulting wing of Allied Analytics LLP based in Portland, Oregon. Allied Market Research provides global enterprises as well as medium and small businesses with unmatched quality of "Market Research Reports" and "Business Intelligence Solutions." AMR has a targeted view to provide business insights and consulting to assist its clients to make strategic business decisions and achieve sustainable growth in their respective market domain.
Last Updated: 30-May-2023