Medical Imaging Market Trend 2023: Revenue to Touch USD 68.8 Billion by 2030 | Allied Market Research
According to the report published by Allied Market Research, the global medical/diagnostic imaging market garnered $38.5 billion in 2020, and is expected to reach $68.8 billion by 2030, witnessing a CAGR of 5.8% from 2021 to 2030. The study analyzes the important strategies, drivers, competition, market dynamics, size, and important investment regions.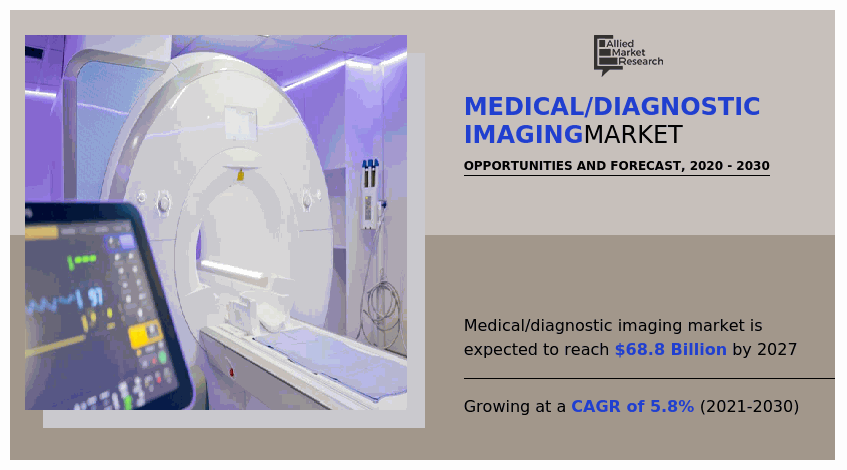 Key Takeaways:
Market Size and Growth: The medical imaging market has witnessed substantial growth and is projected to continue expanding. According to various reports, the market was valued at around $34 billion in 2020 and is expected to reach over $45 billion by 2025, growing at a compound annual growth rate (CAGR) of over 6% during the forecast period.
Technological Advancements: Rapid advancements in medical imaging technologies have played a crucial role in market growth. Innovations such as digital imaging, 3D imaging, artificial intelligence (AI), and machine learning (ML) have enhanced diagnostic accuracy, improved image quality, and enabled more precise treatment planning.
Modalities: Medical imaging encompasses various modalities, including X-ray, computed tomography (CT), magnetic resonance imaging (MRI), ultrasound, nuclear medicine, and others. Among these, X-ray imaging has been widely used and holds a significant market share. However, the market for advanced modalities like MRI and CT is expected to witness substantial growth due to their ability to provide detailed images for diagnosis.
Application Areas: Medical imaging is utilized across a wide range of medical specialties, including radiology, cardiology, orthopedics, oncology, neurology, and others. The increasing prevalence of chronic diseases, such as cancer and cardiovascular disorders, has driven the demand for medical imaging in these areas.
Rising Demand for Point-of-Care Imaging: There is a growing trend towards point-of-care imaging, which involves performing imaging procedures at the patient's bedside or in clinics rather than dedicated imaging centers. This approach offers advantages such as faster diagnosis, improved patient care, and reduced costs.
Request Sample Copy of the Report:
https://www.alliedmarketresearch.com/request-sample/1400
Market Drivers:
Technological Advancements: Advances in medical imaging technologies have significantly contributed to market growth. These advancements include improved image quality, faster scan times, increased patient comfort, and enhanced diagnostic accuracy. Technological innovations such as digital imaging, 3D imaging, and hybrid imaging modalities have expanded the capabilities of medical imaging systems, leading to increased adoption and demand.
Increasing Prevalence of Chronic Diseases: The rising incidence of chronic diseases such as cancer, cardiovascular disorders, and neurological conditions has resulted in a growing demand for medical imaging. Medical imaging techniques play a crucial role in the early detection, diagnosis, and monitoring of these diseases. As the global burden of chronic diseases continues to rise, the demand for medical imaging is expected to increase accordingly.
Market Segmentation:
By Modality:
X-ray: This segment includes traditional X-ray imaging systems used for capturing images of bones and tissues.
Computed Tomography (CT): CT scanners provide cross-sectional images of the body, enabling detailed visualization of internal structures.
Magnetic Resonance Imaging (MRI): MRI utilizes magnetic fields and radio waves to produce detailed images of organs, soft tissues, and bones.
Ultrasound: Ultrasound imaging uses high-frequency sound waves to generate images of internal body structures. It is commonly used in obstetrics, cardiology, and general imaging.
By Application:
Radiology: This segment covers general radiology imaging procedures performed for diagnostic purposes.
Cardiology: Medical imaging plays a vital role in diagnosing and monitoring cardiovascular conditions.
Oncology: Imaging techniques are extensively used in the detection, staging, and monitoring of cancer.
Neurology: Neuroimaging is crucial for diagnosing and studying conditions related to the brain and nervous system.
Orthopedics: Medical imaging is employed to assess bone fractures, joint disorders, and musculoskeletal conditions.
By End-user:
Hospitals: Hospitals are the primary end-users of medical imaging technologies due to their comprehensive healthcare services.
Diagnostic Imaging Centers: These specialized centers focus on providing medical imaging services, including radiology and other advanced imaging modalities.
Ambulatory Surgical Centers: These facilities perform same-day surgical procedures and may also offer medical imaging services.
Others: Other end-users may include research institutes, academic institutions, and veterinary clinics.
By Region:
North America: This region includes the United States and Canada, which have well-established healthcare infrastructures and high adoption of medical imaging technologies.
Europe: European countries have a strong presence in the medical imaging market, with advanced healthcare systems and technological advancements.
Asia-Pacific: This region is experiencing rapid growth in the medical imaging market, driven by increasing healthcare expenditure, growing population, and rising prevalence of chronic diseases.
Latin America: Countries in Latin America are witnessing a growing demand for medical imaging technologies due to improving healthcare infrastructure and rising healthcare awareness.
Middle East and Africa: This region is gradually adopting advanced medical imaging technologies, driven by increasing investments in healthcare infrastructure and improving access to medical services.
Request for Customization –
https://www.alliedmarketresearch.com/request-for-customization/1400
Regional Growth Dynamics:
Based on region, North America held the highest share in 2020, accounting for around one-third of the total market share, and is expected to continue its dominance in terms of revenue by 2030. However, Asia-Pacific is estimated to portray the largest CAGR of 6.5% during the forecast period.
Competitive Landscape:
Siemens Healthineers
GE Healthcare
Philips Healthcare
Canon Medical Systems Corporation
Hologic, Inc.
Hitachi Medical Systems
Fujifilm Holdings Corporation
Carestream Health
Samsung Medison
Shimadzu Corporation
Recent developments:
Advancements in 3D and 4D Imaging: Three-dimensional (3D) and four-dimensional (4D) imaging technologies have gained prominence in medical imaging. These techniques provide detailed volumetric images that enable better visualization and assessment of anatomical structures and pathological conditions. 3D and 4D imaging are particularly valuable in fields like radiology, cardiology, and obstetrics for improved diagnosis and treatment planning.
Portable and Point-of-Care Imaging: There is a growing demand for portable and point-of-care imaging devices. These compact and lightweight systems allow medical professionals to perform imaging procedures at the patient's bedside, in remote areas, or in ambulatory settings. Portable imaging solutions provide real-time results, faster diagnosis, and improved patient care, especially in emergency situations or resource-constrained environments.
Buy this Premium Research Report:
https://www.alliedmarketresearch.com/purchase-enquiry/1400
VALUE PROPOSITIONS RELATED TO THE REPORT:
Powered with Complimentary Analyst Hours and Expert Interviews with Each Report
Comprehensive quantitative and qualitative insights at segment and sub-segment level
Covid 19 impact trends and perspective
Granular insights at global/regional/country level
Deep-rooted insights on market dynamics (drivers, restraints, opportunities) and business environment
Blanket coverage on competitive landscape
Winning imperatives
Exhaustive coverage on 'Strategic Developments' registered by leading players of the market
Browse more latest healthcare reports:
Sleep Apnea Implants Market by Product Type (Hypoglossal Neurostimulation Devices, Phrenic Nerve Stimulator, Others), by Indication (Obstructive Sleep Apnea, Central Sleep Apnea), by End User (Hospitals, Ambulatory Surgical Centers, Others): Global Opportunity Analysis and Industry Forecast, 2021-2031
Tablet Coatings Market by Polymer (Cellulosic, Vinyl, Acrylic), by Type (Sugar Coated, Film Coated, Enteric Coated, Gelatin-coated), by Functionality (Delayed-Release, Sustained Release), by End User (Pharmaceutical, Nutraceutical): Global Opportunity Analysis and Industry Forecast, 2021-2031
About Allied Market Research:
Allied Market Research (AMR) is a full-service market research and business-consulting wing of Allied Analytics LLP based in Portland, Oregon. Allied Market Research provides global enterprises as well as medium and small businesses with unmatched quality of "Market Research Reports" and "Business Intelligence Solutions." AMR has a targeted view to provide business insights and consulting to assist its clients to make strategic business decisions and achieve sustainable growth in their respective market domains. AMR offers its services across 11 industry verticals including Life Sciences, Consumer Goods, Materials & Chemicals, Construction & Manufacturing, Food & Beverages, Energy & Power, Semiconductor & Electronics, Automotive & Transportation, ICT & Media, Aerospace & Defense, and BFSI.
Last Updated: 31-May-2023